Labor Day Menu
From Drinks to Dessert: An Inspired Labor Day Menu
There's no better way to celebrate the long weekend than with a few friends, passing around a plethora of irresistible, homemade dishes — everything from an ice-cold gin cocktail, shaken and served up in a mason jar, to a sweet apple cobbler. We've put together a no-fail menu that is easy to prepare, but more importantly is memorable and delicious to leave your guests wanting more.
Gin and Lavender Lemonade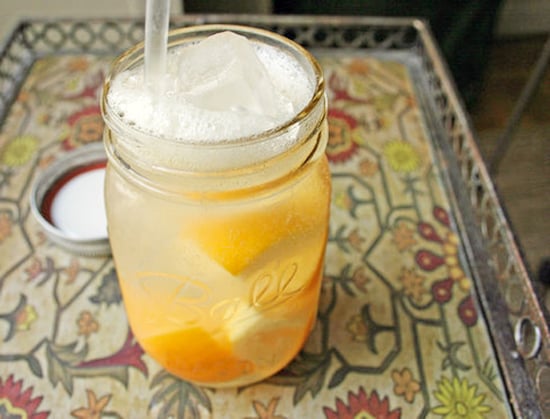 If warmer weather leaves you craving something slightly sweet and fizzy this weekend, then whip up a gin and lavender lemonade. It takes five minutes to prepare, yet the flavors are intoxicating. Lavender dry soda and Meyer lemon give the drink a floral tang, the vanilla bean soda adds just a hint of confectionery sweetness, and the gin offers a refreshing kick. It's a sweet way to toast the end of Summer.
Chipotle Guacamole
Lovers of Chipotle Mexican Grill must make the chain's signature spicy guacamole. Make the dish straight from the legendary burrito restaurant for your weekend dinner party.
Grilled Jalapeño Poppers
Light up the grill a little early to make these chipotle jalapeño appetizers. Each halved jalapeño is stuffed with a combination of crispy bacon, whipped cream cheese, and pepper jack cheese. These peppers tend to pack a lot of heat, so top them off with a refreshing cilantro sauce to balance the spiciness.
Pork Carnitas
Create a taco bar this weekend, because it's always easy to set up plus it's a guaranteed crowd favorite. This pork carnitas recipe will teach you the basics for cooking perfectly braised, shredded carnitas. Toppings are limited to your imagination, but we love the fresh, tangy flavor of salsa verde alongside sweet pickled red onions and salty cotija cheese.
See the rest of the Labor Day menu.
Southeast Asian Tomato Salad
Serve a tasty tomato and cucumber salad alongside your tacos for flavor that is both salty and sweet with a spicy kick. Fish sauce adds a layer of complexity that is hard to recognize but will keep diners guessing from bite to bite.
Apple Cobbler
Michelle Obama's apple cobbler is an all-American favorite. Simply marinate the apples in their sugary juices, then slow cook the cobbler at a low temperature. The end result is absolutely heavenly: the cinnamon and nutmeg are perfectly balanced, the apples dissolve upon bite and are packed with caramel flavor, and the crust is as flaky and crispy as promised.