Latkes Two Ways — Beginner and Expert In case you aren't familiar with them, latkes (or latkas, depending on where you're from), are fried potato pancakes traditionally prepared during the Jewish Hanukkah festival. Although latkes come in many shapes and forms — from zucchini variations to beet renditions — the classic latke is made of shredded potatoes, oil, and seasoning. It's garnished with sour cream or applesauce.
You don't have to be celebrating Hanukkah to enjoy latkes: When topped with smoked salmon and crème fraîche, they're the perfect appetizer at a holiday party. They're also a great side dish alternative to roasted or mashed potatoes. If you're a beginner, make things easier on yourself with already-shredded potatoes, or to go truly gourmet, try making your own savory applesauce. To see both recipes,
.


Ingredients
1 (24-ounce) bag shredded potatoes for hash browns
1 large carrot, peeled
1 medium onion, peeled
2 eggs, beaten
2 teaspoons salt
1 teaspoon baking powder
3 tablespoons matzo meal, cracker meal or all-purpose flour
Vegetable oil, for frying
2 cups chunky apple sauce
1 cinnamon stick
1 cup sour cream
Directions
Heat 1/2-inch oil in a large skillet over medium to medium high heat. To test oil, add a piece of bread to the pan. It should turn golden brown in a ten-count. Adjust heat, as necessary.
Place potatoes in a large bowl. Using a hand grater, grate the carrot and onion into the bowl. Add eggs to the bowl. Add salt and baking powder, then sprinkle in meal or flour. Combine vegetables and meal with a wooden spoon.
Drop mixture into oil in 3-inch mounds, press down gently with spatula to form patties. Fry in batches of 4 to 6 patties depending on the size of your skillet, 1-inch apart, until golden, about 3 minutes on each side.
Put chunky applesauce and the cinnamon stick in a saucepan over medium heat and warm for 3 to 4 minutes.
Drain latkes on paper towels or parchment lined tray. Serve with warm applesauce and sour cream.
Makes 12 latkes, or 6 servings.
Information
Category

Side Dishes, Potato

Cuisine

Jewish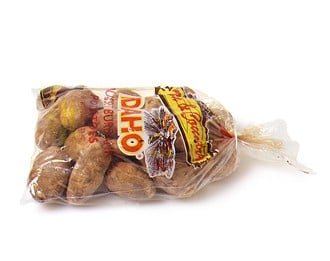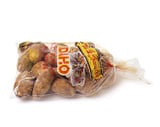 Ingredients
Rosemary and Brown Butter Applesauce:
3 cups unsweetened apple juice
3 4-inch fresh rosemary sprigs
1 1/2 cinnamon sticks
3 1/2 pounds (7 to 8 medium) Braeburn apples or other tart-sweet apples, unpeeled, quartered, cored, cut into 1-inch chunks (about 12 cups)
3 tablespoons unsalted butter
Latkes:
6 large russet potatoes (4 pounds)
2 tablespoons (1/4 stick) unsalted butter
1 cup finely chopped shallots (about 6)
2 teaspoons coarse kosher salt
1/2 teaspoon freshly ground black pepper
12 tablespoons (about) prepared usli ghee* or clarified butter, divided
Directions
Make applesauce: Combine first 3 ingredients and large pinch of salt in large pot. Boil until juice is reduced by half, about 8 minutes. Mix in apples. Cover; cook over medium heat until apples are very tender, stirring occasionally, about 35 minutes. Uncover and, if necessary, cook until liquid evaporates. Discard rosemary and cinnamon.
Transfer apples to food mill fitted with fine or medium plate and pass apples through mill (or press through coarse sieve) into medium bowl; discard skins.
Melt butter in small skillet over medium-low heat. Cook until butter browns, stirring occasionally, about 4 minutes. Mix brown butter into applesauce. Cover and chill. Can be made a day in advance (bring to room temperature or rewarm before serving).
Make latkes: Cook potatoes in large pot of generously salted boiling water until partially cooked (tester will meet some resistance), about 15 minutes. Drain potatoes, rinse in cold water, and drain again. Peel, cover, and chill until very cold, at least 4 hours and up to 1 day.
Coarsely grate potatoes into large bowl.
Melt butter in large ovenproof cast-iron skillet over medium-low heat. Add shallots; sauté until soft, about 6 minutes.
Add shallot mixture, 2 teaspoons coarse salt, and 1/2 teaspoon pepper to potatoes (reserve skillet). Toss to blend evenly (do not compact potato mixture).
Preheat oven to 450°F. Melt 4 tablespoons ghee in reserved skillet over medium heat. Add half of potato mixture (5 1/2 to 6 cups). Stir gently until ghee is absorbed, about 2 minutes. Spread potatoes to even layer, then press firmly with metal spatula to compact. Cook 5 minutes, pressing and flattening occasionally. Reduce heat to medium-low. Place slightly smaller skillet atop potato cake. Weigh down with heavy can (such as 28-ounce can of tomatoes). Cook potato cake 15 minutes, pressing occasionally.
Remove can and small skillet. Press potato cake again to flatten. Spread with 2 tablespoons ghee.
Place skillet in oven and bake potato cake uncovered 15 minutes. Run narrow spatula around potato cake. Turn out onto platter, bottom (crusty) side up. Immediately cut into wedges and serve with applesauce. Repeat with remaining potatoes and ghee.
Serves 8 to 10, with 3 cups of applesauce on the side.
*Indian clarified butter (also called ghee); available at some supermarkets and specialty foods stores and at Indian markets.
Information
Category

Side Dishes, Potato

Cuisine

Jewish