Laura Werlin: Grilled Cheese and Wine Pairing
How to Pair Grilled Cheese With Great Wines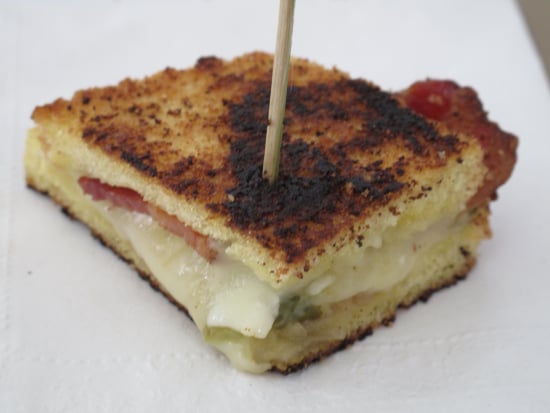 From egg-in-a-nest grilled cheese to mac-and-cheese grilled cheese served out of a truck, the humble childhood classic is one of today's biggest food trends. But what do you get when you pair the lowbrow sandwich with wine, a beverage best known for its refined sophistication? Thanks to an Aspen seminar led by cheese expert Laura Werlin, I discovered the answer: pure gastronomic bliss.
Laura offered not only a number of steps to re-creating such sensory nirvana, but she also shared her favorite grilled cheese and wine pairings.
Before selecting grilled cheeses to pair with wines, taste each cheese you plan to use in its natural, unmelted state, alongside the wine you plan to pair it with.
Be sure to test the pairings both with and without a cheese's rind; a washed or blooming edible rind can tend to make wine pairings taste soapy.
When enjoying a cheese and wine pairing, always taste the wine first; cheese affects how wine tastes much more than the other way around. Start with a first sip of wine, then take a second to calibrate your palate and allow it to adjust to the wine's acidity and tannin; then take a bite of your cheese, followed by another sip of wine.
For some of Laura's favorite pairings, read more.
Bubbles and creamy cheeses, such as creamy young goat cheese. The bubbles serve as a counterpart to a cheese's mouth-coating texture.
Red wine with aged cheddar — or any semihard cheese, for that matter. Red wine doesn't pair as well with cheese in general, but cheddar has no sugar at all, and it's very earthy, which helps it to goes well with red wine.
Fruitier wines for sweeter flavors. For example, Werlin matched up a caramelized onion grilled cheese with a tart, fruit-forward Riesling.
Dessert or sweet wines with salty, fatty foods. The sweet-salty combo of creamy, veiny gorgonzola, for instance, is a nice counterpoint for a full-bodied late harvest Riesling.
Have you ever enjoyed a grilled cheese sandwich with wine? If so, what'd you think of your experiment?