Sit down at Lawry's The Prime Rib, and you're in for a supper that's as much a spectacle as it is satisfying. The prime rib may draw you in, but it's the restaurant's spinning salad that will keep you coming back for more. Watch the video for the backstory behind this iconic side, and then try our take on the recipe.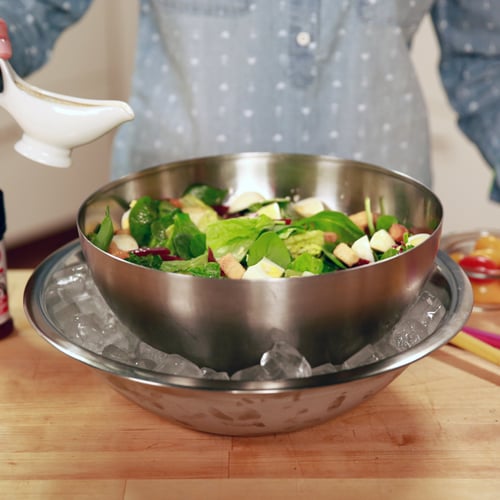 Ingredients
For the dressing:
3 tablespoons cider vinegar
3 tablespoons water
2 tablespoons applesauce
2 teaspoons worcestershire sauce
1 1/2 teaspoons dry sherry
1 1/2 teaspoons Lawry's Seasoned Salt
1 teaspoon granulated sugar
1/2 teaspoon paprika
1/4 teaspoon garlic powder
2 drops Tabasco
1/2 cup vegetable oil
For the salad:
8 ounces romaine lettuce, cut into bite-size pieces
2 ounces baby spinach
2 ounces iceberg lettuce, cut into bite-size pieces
4 ounces steamed beets, julienned
4 ounces hard-boiled eggs, chopped
4 ounces sourdough croutons
4 ounces dressing
8 cherry tomatoes
Lawry's Seasoned Pepper, to taste
Directions
Make the dressing: In a blender, combine all the salad dressing ingredients except the oil on high until combined. With motor running on high, slowly add the oil in a thin stream; blend until emulsified. Refrigerate until serving.
Place salad greens in a large salad bowl. Arrange beets over greens; sprinkle with chopped eggs and top with croutons.
Fill a very large shallow bowl with crushed ice, making a depression in the center. Place salad bowl with ingredients on top of ice, settling it in the depression.
While spinning the bowl, drizzle the dressing over the salad greens. Toss to combine completely. Divide between four plates, and garnish each plate with two cherry tomatoes. Serve with Lawry's Seasoned Pepper.
Information
Category

Side Dishes, Greens

Yield

4 servings, with leftover dressing