Learn How to Make Simple Pickled Vegetables
Get Caught in a Pickle! Every time I visit my mom, she always sends me home with jars of her homemade pao tsai, aka pickled vegetables. Hers are sort of like kimchee and they're a little bit spicy and a little bit sweet. Last week, when I visited my mom, she only had one jar to hand over and demanded that I give it to my sister. Her reasoning was that my sister was busy and that I could just make my own. I couldn't really argue with her and decided to prove to her that I could. The technique is actually really simple and quick — it took about 15 minutes to make, plus a day to sit — and the results are pretty nice. See the recipe I used — just tweak it to suit your own palate — when you
.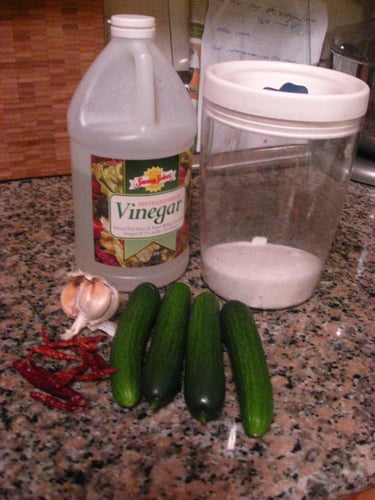 Pao Tsai - Pickled Vegetables
Inspired by YumSugar's mom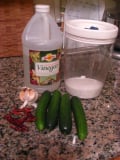 Ingredients
8 mini cucumbers (or 4 regular sized ones, I prefer the English kind as they're crispier)
2 cloves garlic, minced
4 dried chili peppers (more or less to taste)
1 1/4 cups white vinegar
1 cup sugar
Directions
Peel cucumbers and cut them into smaller pieces. Mine were about 1 1/2 inches long each.
In a bowl dissolve sugar into vinegar. Add garlic and seeds from chili peppers.
Put cucumbers and hot peppers into a vessel or jar. Top with liquid mixture.
Close jar and put into fridge overnight. Let sit at least 24 hours if not longer. The flavor will get stronger as it sits.
Enjoy!
This recipe is very flexible, if you don't like spice, don't add peppers, if you want more garlic, add it. You can also add radishes, carrots and other country veggies to the mix.
Information
Category

Snacks, Vegetables

Cuisine

Chinese