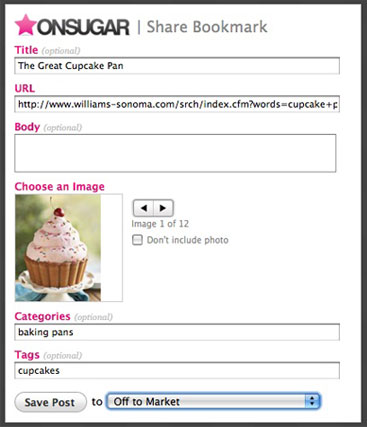 If you're an avid YumSugar reader, you're probably familiar with the regular feature Off to Market, where I ask you to help me find fabulous stuff on the Internet. Using our bookmark feature lets us share amazing products with each other. You can even create a holiday wish list and send it to your loved ones! To encourage bookmarking, I've put together this guide that teaches you how it's done:
Join the group Off to Market.
Once you have joined, you'll need to add the PopSugar Bookmark tool to your browser's favorites. This link is the OnSugar Bookmark "button" you click on to bookmark products. To add it to your toolbar, right-click on the link and select "Bookmark this link" or drag the link onto your toolbar or favorites. (Check out Bookmark FAQ for more information.)
Find the products you want to bookmark for the challenge.
Click the bookmark button on your toolbar. A window will pop up with your bookmark.
If you want, you can customize everything. Feel free to change the title or fill out the Categories and Tag fields.
Select Off to Market in the group dropdown. Repeat this process for as many items as you would like to include in your widget.
Once you have all your bookmarks, visit Off to Market and click on new post. Choose Layout from the tabs at the top. To include your bookmarks in the layout, click on Add Image and Your Bookmarks tab. Click on the bookmarks you would like to include. You can personalize your Layout page and make it look like a magazine spread.
Once you have created a Layout, you can easily make a widget to post on any of the Sugar sites, in a group, or your own personal site.
While it may seem complicated, once you get the hang of bookmarking it's really fun and fabulous. Start bookmarking now!