Learn to Master Your La Boîte Spice Mixes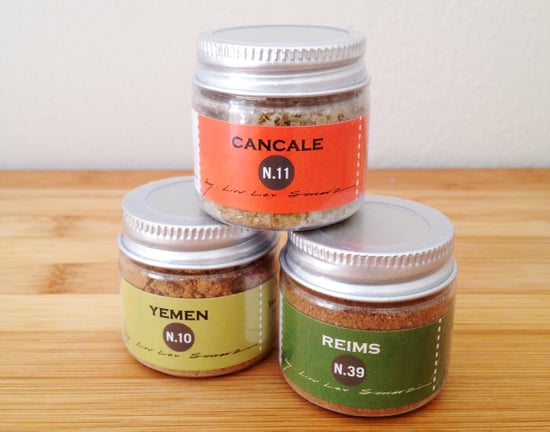 Reims N.39
Named after the town of Reims in France, this blend is inspired by gingerbread and holiday spices. It is made from anise, cardamom, and honey.
Great with:
Oatmeal
Gingerbread
Roast pork belly
Parsnip purée
Peach cobbler
Recipe ideas:
Sauté prunes in butter with a pinch of Reims. Deglaze with port, reduce until syrupy and use as a sauce for pork tenderloin.
Cook butter in a skillet until browned, add a pinch of Reims and use to cook trout or another flaky white fish.
Add a pinch to a glass of cava or Prosecco and garnish with a lemon twist
Cancale N.11
Named after the coastal town of Cancale in France, this blend has delicate salt (fleur de sel) with orange and fennel. It will soon replace your salt shaker!
Great with:
Beef carpaccio
Spinach salad
Tomato salad
Tuna tartare
Chocolate chip cookies
Recipe ideas:
Wet the rim of a margarita glass with lime juice and coat with Cancale.
Toss thin asparagus spears with Cancale, lemon juice and olive oil.
Sprinkle on mango slice for a quick snack.
Yemen N.10
Great with:
French toast
English pea soup
Cauliflower gratin
White Russian
Beurre blanc sauce
Recipe ideas:
Sprinkle over or stir into your favorite coffee drink (cappuccino, espresso etc.)
Simmer cubed celery root in milk and Yemen. Puree, then season to taste with more Yemen.
Blend with soften butter and brown sugar and use as a filling for baked apples.