Lee Schrager Daily Life
A Day in the Life of Lee Schrager
Lee Schrager is the mastermind behind the nation's biggest food events, including the upcoming New York City Wine and Food Festival. Here's what he did on Saturday, Aug. 20.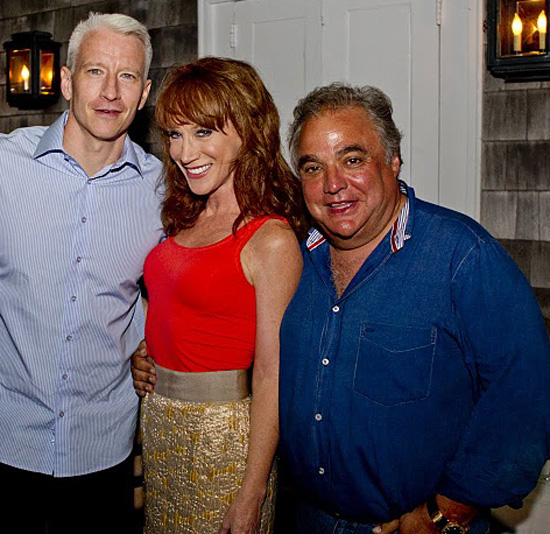 6:00 a.m.: I was up and ready for the day in East Hampton, waiting for my yoga instructor to begin our morning class. I've been doing yoga at the house for the last three Summers with Corey, who is the ex-boyfriend of my regular yoga instructor in Miami. I've been coming out to the Hamptons since 1980, when I worked in the cheese department of the first Dean & Deluca on Newton Lane, and used to spend my days at the beach with Edie Beale (of Grey Gardens fame). We've rented this same house for the past six Summers — it's a gorgeous run-down farm house on a great piece of property, literally three minutes from the center of town.
7:45 a.m.: I headed over to Levain Bakery in Wainscott to pick up some goodies for our house guests. I try and keep away from Levain if possible, as it's truly addicting. This morning, I waited in line behind Russell Simmons, who literally buys every one of the mini brioche I wanted. I ended up bringing home some scones, blueberry muffins, Nutella-stuffed sourdough rolls and, of course, some walnut chocolate chip cookies for later in the day.
10:00 a.m.: I went over to Bridgehampton for a meeting at the Gilt City Hamptons House regarding the afternoon's Burger Blood Bath that Ben Leventhal, from NBC Feast, is producing. I am the Chief Lifestyle Advisor for Gilt City and the Hamptons House is a project I proposed months ago, that includes bringing out over 30 of the nation's top chefs to cook at the house this August. The morning meeting was to discuss set-up, weather back-up plans, sponsorship fulfillment, and registration.
Keep reading to find out whose beach Lee goes to!
12:00 p.m.: I met with a wine supplier at Bobby Van's regarding the premiere of a new wine that Southern Wine & Spirits is launching at the 2011 NYC Wine & Food Festival in September. We are discussing some strategies around the festival weekend to gain maximum exposure for this new product that I think is going to be huge.
2:00 p.m.: I headed to the beach in Sagaponack for a few hours with my partner and house guests. Our dear friend, Katie Lee, lives in a great oceanfront home that has been our own private beach club for the past four Summers, which has been a saving grace, as it's impossible to even find beach parking on a beautiful weekend. We packed up all the leftovers from dinner at Red Farm (Chodorow's newest NYC rest) to eat on the beach. The clay pot chicken and rib eye with bok choy were even better than they were two nights ago at the restaurant!
3:00 p.m.: I go back over to the Gilt City Hamptons House for the Burger Blood Bath. Although judging doesn't start until 5:00 p.m. (I am a judge along with Kate Krader, Pat LaFreida, and Marc Murphy), I want to be there early to say hello to the chefs and sponsors who should just be arriving. We have a great line-up of chefs this year: Wylie Dufresne from wd~50, Michael White from Marea, Zak Chodorow and Cobi Levy from Niko, and Mark Vidal of Boqueria. I do my best not to eat any of the burgers during the reception, but eventually I have to give in, as they all look outrageous and smell so good! I manage to eat just 1/4 of each of the eight burgers, though that still amounts to well over two full burgers I am certain. Mo Koyfman wins the competition for the third time in a row, which entitles him a coveted slot at the NYCWFF Burger Bash.
7:00 p.m.: I head over to Sag Harbor and Tutto il Giorno restaurant for an AMFAR benefit that Anderson Cooper and Kathy Griffin are hosting. Despite thinking I can't eat one more thing, I manage to put a dent in the lavish buffet while downing a few Pimm's Cups and chatting up the crowd. Anderson and Kathy arrive just after 8 p.m. — we go right up to them and say a quick hello, talk about his giggle attack on the air earlier in the week, take some photos, and sneak out.
9:00 p.m.: We're driving to the East Hampton Grill for our dinner reservation when I realize that I can't possibly eat one more thing. I ask my carload of friends if they feel the same and they all break into a loud applause. We head back to our house, after calling to cancel our reservation, which I was scared to do, as I begged to get it. Once at home, we eat some of the peach and blubbery cobbler left over from Claudia Fleming's North Fork Table dinner at the Hamptons House the night before and crack open a few bottles of Nicolas Feuillatte Rose Champagne. Oh yes — we found some Moose Tracks ice-cream from Scoop Du Jour in the freezer and add that to the stunning cobbler.
11:00 p.m.: Just before heading to the bedroom, I start adding up the calories from the day. I swear that I will go on the Blue Print Cleanse for at least three days this week, before taking a Tylenol PM to help me sleep from the sugar high I am now on.