Lemon Buttermilk Bundt Cake Recipe
Pucker Up to a Lemon Buttermilk Bundt Cake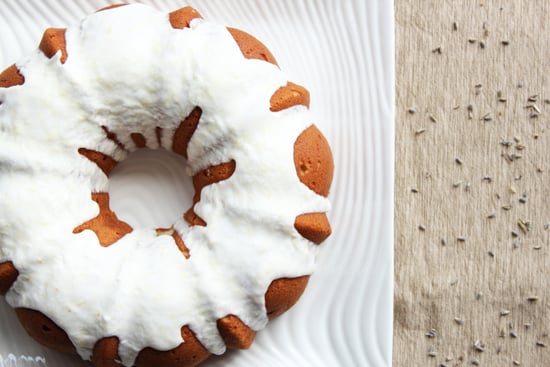 After eating my way through the cupcake craze, I'm ready to put my muffin tins away and dust off the cake pans that have been sitting at the back of my cupboards.
Don't get me wrong: I love a tiny handheld treat. But there's something very satisfying slicing into — and serving — a full-sized cake.
This time of year, I want something that goes well with a cup of tea or a scoop of fresh berries, something that makes me feel like a real hostess when friends drop in. So when I came across a recipe for a glazed lemon buttermilk cake, I knew I had found the perfect match.
The cake is moist and tangy, thanks to the addition of vegetable oil and buttermilk, but it's the lemon glaze that gives it a real lemony kick. It's great as a dessert, but I enjoy it most as a midafternoon excuse to put off doing laundry for just a little bit longer! For the recipe, just keep reading.
Ingredients
3 cups all-purpose flour
2 teaspoons baking powder
3/4 teaspoon salt
1 1/2 cups sugar
1/2 cup unsalted butter, room temperature, plus more for greasing the pan
2 tablespoons lemon zest
3 large eggs
2 teaspoons vanilla extract
1 1/4 cups buttermilk
1/2 cup vegetable oil
Directions
Preheat the oven to 350ºF. Butter a 10-inch Bundt pan.
In a medium bowl, whisk together the flour, baking powder, and salt.
In a large bowl, cream together the butter and sugar until light and fluffy. Beat in the lemon zest, then beat in eggs, one at a time, until combined.
In a two-cup measuring cup, mix together the vanilla extract, buttermilk, and oil.
Add one third of the flour mixture to the butter mixture and beat gently until just combined. Then add half of the buttermilk mixture, beating until just combined. Repeat until you have used all of the dry and wet ingredients, ending with one final flour mixture addition. Beat until just combined and no streaks of flour remain.
Pour into the prepared pan and bake in the center of the oven for 50 to 55 minutes until a toothpick inserted in the middle of the cake comes out with just a few crumbs attached. Cool in the pan on a wire rack for 15 minutes, then invert the cake onto the wire rack to cool completely before glazing.
Makes one Bundt cake.
Information
Category

Desserts, Cake

Cuisine

North American
Ingredients
2 tablespoons unsalted butter, melted and cooled
2 tablespoons lemon juice
1 tablespoon lemon zest
1 cup confectioners' sugar
1 1/2 tablespoons water
Directions
Combine all the ingredients in a small bowl and whisk until smooth.
To glaze the cake: set the cake on a wire rack over waxed paper and slowly drizzle the glaze over the cake.
Information
Category

Desserts, Frosting

Cuisine

North American