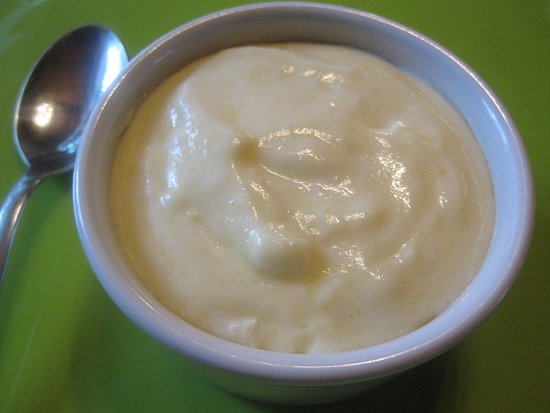 As much as I love gooey, warm, decadent, and rich desserts, sometimes, in the long cold dead of Winter, it's nice to have a cool, refreshing, and bright treat. This lemon mousse is just that — it's tart, yet sweet and incredibly smooth and creamy. It's so good, it's hard not to eat it all in one sitting. The thing to remember about mousse is that it must be made in advance, so start the day before you plan on serving it. This recipe is large enough to feed a crowd and makes use of homemade lemon curd. Sound scrumptious? Wait until you taste a spoonful! Get the method and
.
Ingredients
3 extra-large whole eggs
3 extra-large eggs, separated
1 cup plus 2 tablespoons sugar
2 teaspoons grated lemon zest
1/2 cup freshly squeezed lemon juice (4 lemons)
Kosher salt
1 cup heavy cream
1/2 cup good bottled lemon curd, at room temperature
Sweetened Whipped Cream, recipe follows
Sliced lemon, for garnish
Directions
In a large heat-proof bowl, whisk together the 3 whole eggs, 3 egg yolks, 1 cup sugar, the lemon zest, lemon juice, and a pinch of salt. Place the bowl over a pan of simmering water and cook, stirring constantly with a wooden spoon, for about 10 to 12 minutes until the mixture is thick like pudding. (I change to a whisk when the mixture starts to get thick.)
Take off the heat and set aside for 15 minutes. Cover with plastic wrap directly on the surface and refrigerate for 1 to 2 hours, until completely chilled.
Place half the egg whites and a pinch of salt in the bowl of an electric mixer fitted with the whisk attachment. Beat on high speed. Add the remaining 2 tablespoons sugar and continue to beat until the whites are stiff and shiny.
Carefully fold the beaten whites into the cold lemon mixture with a rubber spatula. Place the cream in the same bowl of the electric mixer fitted with the whisk attachment (no need to clean the bowl) and beat on high speed until the cream forms stiff peaks.
Carefully fold the whipped cream into the lemon mixture. Fold in the lemon curd, and pour into a 7-inch-diameter, 3-inch-deep souffle dish. Decorate with sweetened whipped cream and lemon slices that have been cut into quarters. Chill and serve cold.
Serves 8-10.


Sweetened Whipped Cream:
1 cup cold heavy cream
1 tablespoon sugar
1/2 teaspoon pure vanilla extract
Place the cream, sugar, and vanilla in the bowl of an electric mixer fitted with the whisk attachment. Whip on medium and then high speed until the cream just forms still peaks. Spoon the whipped cream into a pastry bag fitted with a large star tip.
Information
Category

Desserts, Puddings/Mousse

Cuisine

North American