Leonard's Bakery Malasadas
Malasadas at Leonard's, a Honolulu Fixture Since 1952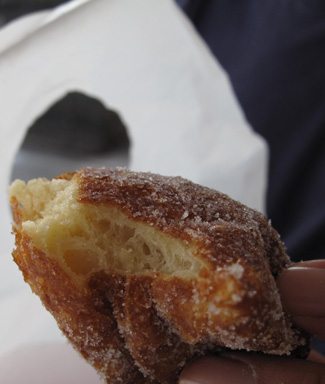 Maybe you're familiar with tuna poke, plate lunches, and other culinary contributions from Hawaii, but have you ever heard of a malasada? I hadn't — that is, until I visited Honolulu and was told that they can't be missed.
Much like a sugar doughnut, a malasada is a confection of fried yeast dough that's been showered in granulated sugar. I enjoyed plenty of them during my stay, but the best were from Leonard's Bakery, an institution known far and wide to have the best fried puffs in town. It lived up to its hype: the hot-out-of-the-fryer malasadas were crackled — almost bruléed — on the outside, and just barely cooked in the center, with a moist, custard-like flavor.
Learn more about the famous fried specialty and Leonard's Bakery when you keep reading.
The bakeshop was founded in 1952 by Leonard DoRego, the grandson of Portuguese emigrants who moved to the islands to work in Hawaii's sugar cane fields. Once introduced, the malasadas (a longtime Shrove Tuesday tradition in Portugal) became a huge hit in Oahu and its neighboring islands. Today, son Lenny Jr. runs the store out of the same Kapahulu Avenue spot that's been open since 1957 — and Hawaiians have declared Fat Tuesday to be Malasada Day.
I couldn't resist trying the bakery's many doughnuts that hid fillings of custard, haupia (coconut), and chocolate, but in the end, my favorite was the basic yet perfect plain sugar malasada. It's a good thing I'm an ocean away, otherwise I'd end up there every day. Have you ever tried a Leonard's malasada?