Light Menu Plan
A Light Dinner Menu That Looks and Tastes Indulgent
You might not be able to take back all the eggnog, Champagne, ham, and neighbors' cookies you ate during the holidays, but you can start making healthier, lighter choices in 2013 by trying out this menu with those thoughts in mind. Deprivation's not on our list of resolutions. We want you to get all the good stuff: fried chicken, barbecued beans, and even dessert. However, each of these recipes has a little secret — they're all better for you than their original counterparts.
Celery Root and Leek Soup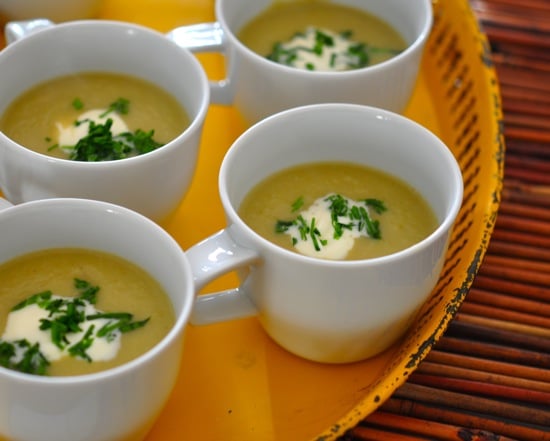 Modeled after potato and leek soup, the main starch in the soup is actually celery root; also, you won't find any cream acting as a thickening agent. Make the soup even lighter by garnishing it with a dollop of Greek yogurt instead of crème fraîche.
Mayo-Free Waldorf Salad


If you don't like mayonnaise or blue cheese, then you'll appreciate the fact that this updated Waldorf salad is free of those heavy ingredients, traditionally found in the original salad.
Keep on reading for the rest of the menu.
Baked Fried Chicken


Forget your fry pan, because this fried chicken is actually coated in a mix of crackers and pecans and baked to achieve its crispy crust.
Steamed Kale


Stop slathering your kale in a ton of butter, soy sauce, or salad dressing! The trick to getting rid of kale's bitter flavor and fibrous texture is to steam it. That's it. The end result is naturally salty and perfectly wilted.
Vegan Barbecue Black-Eyed Peas


Bacon usually adds a salty smokiness to barbecue beans, but these black-eyed peas achieve a similar flavor with the addition of chipotles in adobo sauce.
Baked Apples Stuffed With Oats


There's no butter in this baked apples recipe. Honey and brown sugar coat the oats, which are then stuffed into a whole, cored apple. Serve it à la mode with a scoop of frozen yogurt or dairy-free ice cream like coconut milk.