Log On and Eat With Eden Grinshpan | Interview
The Coolest Cooking Channel Host to Know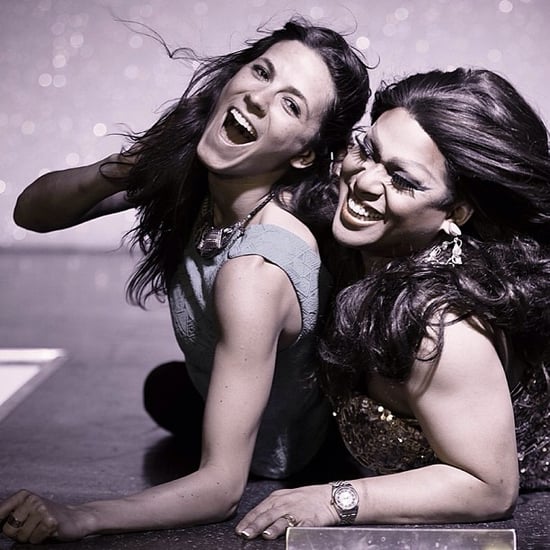 Clocking in at about six feet tall with the best biceps you've ever seen and a raspy, louder-than-life voice, Eden Grinshpan commands awe when she enters the room. But this beauty queen is no pushover in the food department. The girl knows how to put away some serious food — the DKA, for example — and she's doing something no one else in the food TV world is. On her new Cooking Channel show, Log On and Eat With Eden Grinshpan, she travels around the country meeting talented YouTube stars and food bloggers and dining at their favorite local eateries. Eden took some time to talk to us about her show and the most memorable things she's eaten.
POPSUGAR Food: Who came up with the Log On and Eat concept?
Eden Grinshpan: It was a collaboration of so many different people, but the concept started because of my love for going online, reading reviews, and seeing what's hot in the cities that I'm traveling to. It started off as that, and then it kind of grew into this whole platform of meeting these YouTube and Twitter stars and bringing them to television.
PS: Who finds the YouTubers and bloggers?
EG: We have a whole team. All of our producers are on top of it. I'm also on top of it, because I'm very much online and connecting with different bloggers. It's a joint effort. Also, it's through connections we meet when we're out.
Keep reading for more Eden.
PS: Why is it important to pay attention to bloggers and YouTubers?
EG: These online food personalities are so important, because they're just like you and me. They're not TV stars or major chefs. They are passionate about food, about specific foods, and they want to express that and share that with so many people. It's really important to see what people are doing out there, and I always get the best recommendations from the locals, from the people that are living and breathing that city. It's a really important way to know what's happening and to be present within the now.
PS: Who has been the most entertaining person you've met?
EG: I loved meeting with Davey Wavey. He's absolutely fabulous! I want to take him home with me. No, seriously, we completely connected. I love his outlook on life. His real goal is just to spread self-acceptance. He uses working out, funny things, and eating cool stuff as kind of a way to spread the word. But the underlying message is self-acceptance and just being proud.
PS: What has been your favorite city to visit?
EG: I love LA. There's a great food scene. I also love Austin, TX. There's such a flair to it. The people that live there are quirky, cool, and superoutgoing. They're really on top of the food scene as well. I always feel like I'm being introduced to something new in the culinary field when I'm there.
PS: What was the most surprising thing you've eaten while on the show?
EG: I'm a huge fan of hole-in-the-wall eateries. We actually got to go to this Caribbean spot in Crown Heights (Brooklyn) called Gloria's, and we chowed down on chicken roti that was amazing. We also had the opportunity to go to Plan Check in LA, where they have the best burger! I swear, he's modernized the American classic cheeseburger, and it's fantastic. Oh, and another place in LA, called Egg Slut. When I was told we were going there, I was like, "Is that appropriate?" But this is the beauty of this industry — there's a term now for people who are so obsessed with eggs that they're called "egg sluts." The food was great, and they do know how to cook them eggs.
PS: How has the reception been for the show so far?
EG: So far people are really getting excited about it. It's a new concept. It's very modern and fresh. It's a really neat way to incorporate online aspects with television and just raise awareness of what's going on, on the web.