Macaroni & Cheese With a Butternut Twist
Macaroni & Cheese With a Butternut Twist
Who doesn't love comfort food with a twist? I certainly do, so naturally I was thrilled to experiment with this hearty version of the American classic: butternut squash mac and cheese. Although the finished dish is the vibrant color of the classic Kraft Macaroni and Cheese, this variation is substantially more flavorful. With the exception of peeling the butternut squash, the recipe is simple. This creamy, crunchy side dish has a mild, nutty flavor from the butternut squash that perfectly complements the sharp cheddar cheese. I plan to make this scrumptious side dish again for Thanksgiving. Both kids and adults are bound to love it! Get started on your own butternut squash mac and cheese and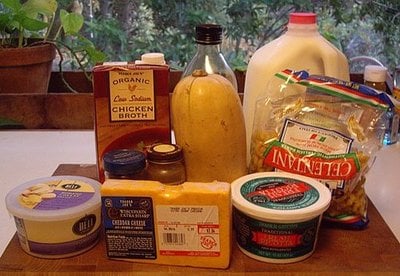 Butternut Squash Macaroni and Cheese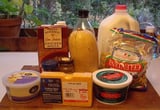 Ingredients
1 small butternut squash (about 1 pound), peeled, seeded, and cut into 1-inch cubes (about 3 cups)
1 cup homemade or low-sodium canned chicken stock, skimmed of fat
1 1/2 cups nonfat milk
Pinch of freshly grated nutmeg
Pinch of cayenne pepper
3/4 teaspoon coarse salt
Freshly ground black pepper
1 pound elbow macaroni
4 ounces extra-sharp cheddar cheese, finely grated (about 1 cup)
4 tablespoons Parmesan cheese, finely grated (1 ounce)
1/2 cup part-skim ricotta cheese
2 tablespoons fine breadcrumbs
1 teaspoon olive oil
Olive-oil cooking spray or butter, to grease baking pan
Directions
Preheat oven to 375°F. Combine squash, stock, and milk in a medium saucepan; bring to a boil over medium-high heat. Reduce heat to medium; simmer until squash is tender when pierced with a fork, about 20 minutes. Remove from heat.
Mash contents of saucepan; stir in nutmeg, cayenne, and salt, and season with black pepper. Stir to combine.
Meanwhile, bring a large pot of water to a boil. Add noodles; cook until al dente according to package instructions, about 8 minutes. Drain, and transfer to a large bowl; stir in squash mixture, cheddar, ricotta, and 2 tablespoons Parmesan.
Lightly coat a 9-inch square baking dish (4 inches deep) with cooking spray or coat with butter. Transfer noodle mixture to dish.
In a small bowl, combine breadcrumbs, remaining 2 tablespoons Parmesan, and oil; sprinkle evenly over noodle mixture.
Cover with foil, and bake 20 minutes. Remove foil, and continue baking until lightly browned and crisp on top, 20 to 40 minutes more. Serve immediately.
Serves 6.
Information
Category

Pasta/Noodle, Side Dishes