Madam Geneva's Jam Cocktail Recipe
Happy Hour: Jam Cocktail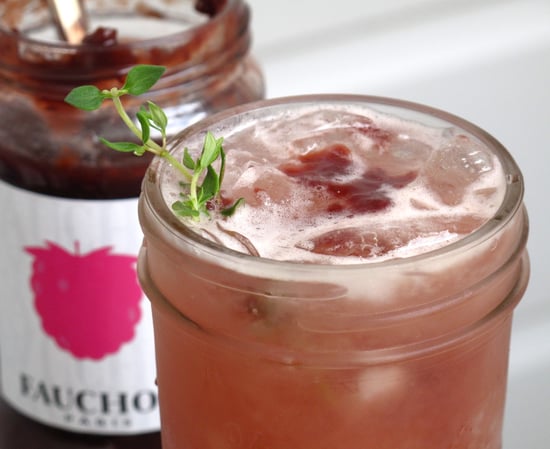 There's no better way to celebrate Spring than with fresh fruit cocktails. But if your farmers market still isn't turning up Spring berries, or you don't have ripe stone fruits on hand, there's another way to incorporate nature's candy into your cocktails: try stirring in your favorite homemade or artisanal jam.
I can't take credit for this ingenious idea — it comes from Madam Geneva, a Manhattan gin bar — but it's a brilliant concept that can be taken to many levels. Start with your favorite clear spirit, add some citrus for acid, and shake it with a pectin-based fruit preserve.
This time, I went for a gin, lemon, and raspberry combo with a garnish of aromatic thyme, served in a small jelly jar for extra effect. When Summer arrives, I'm thinking vodka with blackberry, lime, and basil. After that, who knows? The possibilities are endless. For basic inspiration, read on.
Ingredients
2 ounces gin or vodka
1 ounce lemon juice
1 ounce simple syrup
Crushed ice
Spoonful of jam (I used Fauchon Paris Framboises Fruits Absolus) for stirring, plus another for garnish
Directions
In a shaker, add jam, gin or vodka, lemon juice, simple syrup, and several ice cubes. Shake briskly, then strain into a rocks glass half-filled with crushed ice.
Float a spoonful of jam on top of the ice, and gradually stir it in to taste.
Makes 1 cocktail.
Information
Category

Drinks, Cocktails

Cuisine

North American