Madria Sangria Moscato
Wine of the Day: Madria Sangria Moscato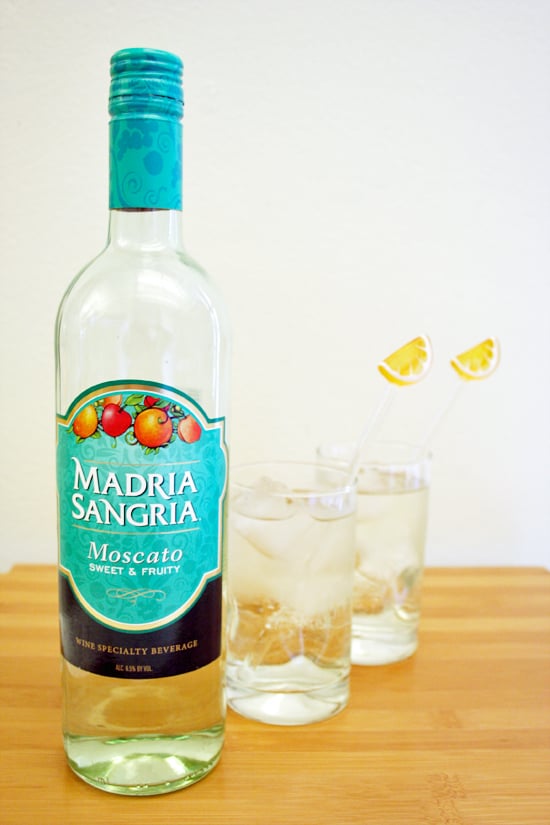 When a bottle of ready-to-pour Madria Sangria Moscato arrived at our office, we eyed it with equal parts suspicion and intrigue: after all, we're obsessed with the stuff and have tried dozens of homemade sangria recipes. Does the flavor of bottled sangria, which goes for $6 a bottle, match up to homemade batches? Find out if the sangria tastes authentic or artificial.
A hot afternoon begged for the sangria's seal to be snapped, so we poured the golden liquid into ice-cube-packed glasses. Upon first sip, the Moscato had a strong alcoholic bite, followed by a sweet, peachy, tongue-coating flavor. Yet the sangria was refreshing and easy to drink: we couldn't help but smack our lips satisfyingly with each tip of the glass.
Despite the lovely afternoon buzz that was brought on by the sangria, a few things disappointed us. Even though we were convinced the peachy flavor was natural, a quick read-through of the label had us shaking our heads in disbelief. The fruity flavors were artificial, and the bottle "contain[ed] zero percent juice." Speaking of lack of fruit, we missed the textural element of chunky apple and stone fruit pieces traditionally found in homemade batches. All in all, Madria Sangria Moscato is on its way to tasting authentic, but it needs a little help in the fresh fruit department to reach true sangria status.