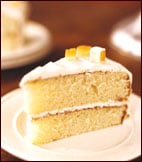 Cakes, cakes, cakes, I love making cakes! During 2006, I went crazy making homemade layer cakes for every event I hosted and all of the holidays in between. To me, making a cake is an enjoyable process and once you understand the basic technique, the flavor possibilities are endless! Many cakes are done by the classic creaming technique. You cream together the sugar and butter, add eggs and then alternate between both a wet and a dry mixture. The dry mixture contains flour, baking soda, etc. and the wet mixture is vanilla, buttermilk, etc. Once all of this is combined, extras can be added (chocolate, etc.) and voila! you have cake batter. Since today is National Apricot Day, I found a cake recipe that has an apricot marmalade filling.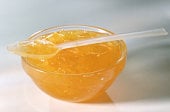 White Chocolate Cake with Apricot Marmalade Filling
From Food and Wine magazine
2 1/4 cups all-purpose flour
2 1/2 teaspoons baking powder
1/4 teaspoon salt
1 1/2 sticks (6 ounces) unsalted butter, softened
1 1/2 cups sugar
4 large eggs
1 teaspoon pure vanilla extract
1 1/4 cups milk
8 ounces white chocolate, melted
2 tablespoons apricot marmalade, very finely chopped if chunky
1/4 cup confectioners' sugar
White Chocolate Buttercream, recipe below
1/2 cup Candied Orange Peels, dipped in white chocolate, optional for garnish
Preheat the oven to 350°. Butter and flour two 9-inch round cake pans.
Sift the flour with the baking powder and salt.
In a large bowl, using an electric mixer, beat the butter at low speed until smooth.
Add the sugar and beat until fluffy. Add the eggs, 1 at a time, beating well after each addition.
Add the vanilla.
At low speed, alternately beat in the dry ingredients and the milk in 2 additions.
Add the melted white chocolate and beat just until incorporated.
Scrape the batter into the prepared cake pans and smooth the surfaces.
Bake the cakes in the center of the oven for 35 minutes, or until golden brown and a toothpick inserted into the centers comes out clean.
Let the cakes cool in the pans for 10 minutes, then invert them onto a wire rack and let cool completely.
In a small bowl, using a handheld electric mixer, beat the orange marmalade and the confectioners' sugar into 1 cup of the White Chocolate Buttercream.
Set 1 cake layer on a cake plate, right side up, and spread the filling on top. Cover with the second cake layer.
Frost the sides and top of the cake with the remaining White Chocolate Buttercream.
Garnish with the white chocolate–dipped Candied Orange Peels, if using (or fresh shaved white chocolate) and serve.
Serves 12.
Make ahead: the frosted cake can be refrigerated for up to 2 days.
101036