 A few weeks ago I asked my dad if he could give me his recipe for goulash. I grew up eating this tomato-pasta-ground-meat goodness — which is nothing like Czech goulash — on a regular basis and was really craving it. However, when I asked him for it, he just laughed and said there was no real recipe. He tweaks it and makes it up each time, depending on what is available. So I went to the store, grabbed a few items, and made my own version.
The dish is easy enough for a weeknight meal, but hearty enough for a weekend. If you want to see how mine came together,
.
Have you ever had a dish like this? What variations do you do?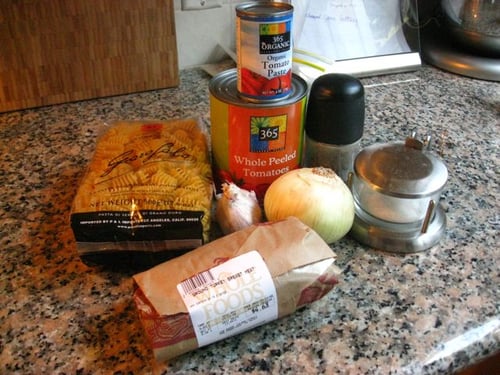 Turkey Goulash
Adapted from YumSugar's Dad's recipe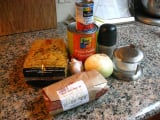 Ingredients
2 1/2 cups uncooked radiatori pasta
1 onion, diced
2 cloves garlic, minced
1/2 pound ground turkey (you can use ground beef, chicken or pork)
1 28 oz. can of whole peeled tomatoes, chopped
chili powder
salt
pepper
olive oil
Directions
In a large pot, cook the pasta as directed.
Meanwhile, in a bowl, season ground turkey with chili powder, salt and pepper.
In a large skillet, heat several tablespoons of olive oil. When oil is shimmering, add onions. Sauté for several minutes then add garlic.
When onions are nearly translucent, add ground turkey. Cook until turkey is fully browned and cook all the way through. Note: If there is excess oil from the meat, drain at this point.
Next, add the tomatoes. Cook until heated. Season with salt and pepper as needed.
At this point, the pasta should be about ready. Drain and return to pot. Add tomato mixture to pasta. Stir until fully incorporated and serve!
Garnish with parmesan cheese, minced green onions, etc.
Information
Category

Pasta, Main Dishes