Mango, Cucumber, and Watermelon Salad Recipe
Off the Bookshelf: Arthur Potts Dawson's Savory Fruit Salad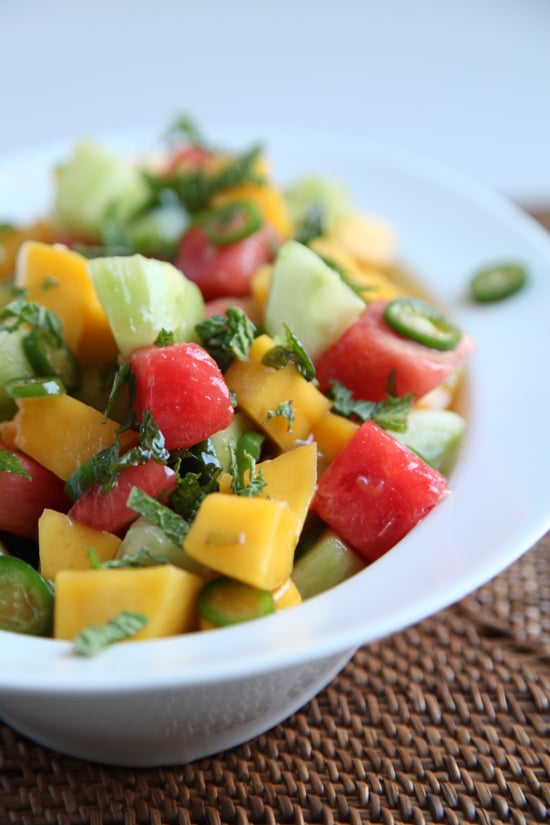 When initially describing this salad to my dining partner tous les jours, his face wrinkled up in disgust, "fish sauce in a fruit salad? Ew!" Stubborn as I am, I ignored his skepticism, and carried on with the peeling, chopping, and slicing.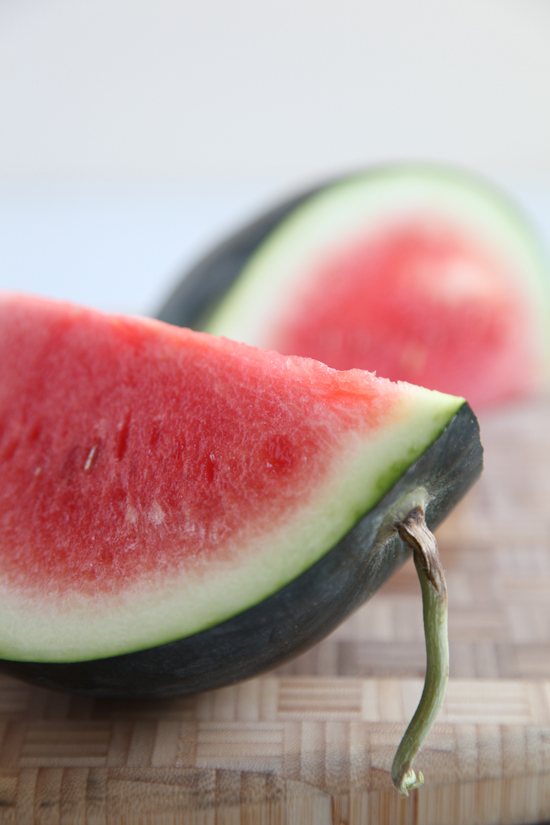 Shortly thereafter, I offered up a juicy bite of the finished product to the aforementioned naysayer, and watched on with slightly smug satisfaction. It was well worth the (minimal) effort. Salty and sweet, with a punch of heat, subtle umami qualities, and ample textural contrast, this salad will keep you guessing from bite to bite.
Once again, Arthur Potts Dawson has hit it out of the park. His newly released produce-heavy cookbook, Eat Your Vegetables, is full of novel flavor combinations that highlight the garden's bounty, and are sure to keep the creative culinary juices flowing. Flipping through its pages, I'm tempted left and right. From eggplant with parsley and lemon crostini to white gazpacho and a stunning leek tart with truffled goat cheese, I've bookmarked nearly every other page.
What do you think of savory-sweet flavor combinations? Do you love them, or hate 'em?
Ingredients
1 large seedless cucumber (14 ounces), peeled and cut into 1/4-inch chunks
2/3 small watermelon (14 ounces), peeled and cut into 1/4-inch chunks
1 to 1-1/2 mangoes (14 ounces), peeled and cut in 1/4-inch chunks
3 tablespoons mint, roughly chopped, plus extra leaves for garnish
2 medium serrano peppers, thinly sliced into rings
1 tablespoon fish sauce
1 tablespoon mirin
5 tablespoons neutral oil, such as canola or grapeseed
Flaky sea salt


Directions
In the bottom of a large mixing bowl, combine 3 tablespoons mint, sliced serrano peppers, fish sauce, mirin and oil. Gently whisk with a fork.
Add the roughly cubed cucumber, watermelon, and mango; toss gently with your hands to coat with the dressing. Add salt to taste (it may not need it, as fish sauce is very salty). Garnish with additional chopped mint leaves.
Serves 4-6.
Information
Category

Salads

Cuisine

North American