Mango Panini Recipe
'Wich of the Week: Prosciutto and Mango Panini Prosciutto and melon is a classic Italian appetizer, but right now, the abundance of juicy, summery mango is too tempting to resist. Combined with the salty, cured ham, this tropical fruit works just as well, especially when freshly cut mint from your garden (or grocery store) is added to the mix.
To balance out the bold trio of mango, prosciutto, and mint, I went basic with the rest of the ingredients: bitter arugula to cut the sweetness, simple hollowed-out ciabatta for the bread, and mild mozzarella to meld it all together. The resulting recipe sounds divinely high-end, but it's just as easy to make as any old panini — whether you own a panini maker or not. Get the recipe, complete with step-by-step photos, when you
.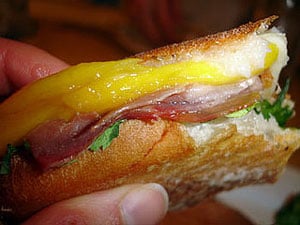 Prosciutto and Mango Panini
Original recipe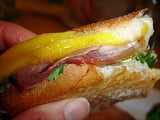 Ingredients
2 small ciabatta rolls (individual sandwich size)
1 tablespoon olive oil
1 cup arugula
1/4 cup fresh mint leaves, julienned
4 large slices of prosciutto
1/2 mango, cut into 1/2-inch thick slices
4 ounces fresh mozzarella, cut into 1/2-inch thick rounds
Directions
Preheat the panini maker or, if you don't own one, place a cast iron skillet in the oven and preheat oven to 350 degrees Fahrenheit.
Slice the ciabatta rolls in half horizontally and scoop some of the bread out of the top half to hollow out. Drizzle the bottom half of each roll with olive oil.
On each bottom piece of bread, pile half the arugula and top with half the mint.

Lay two slices of prosciutto on the arugula, followed by the mango and the mozzarella, dividing equally between the two pieces of bread. To close each sandwich, cover with top half of ciabatta .

Place sandwiches in panini maker for about 5 minutes, until cheese is fully melted. Or, if you don't have a panini maker, arrange sandwiches side-by-side on a baking sheet and cover with cast-iron skillet. Cook for about 5 minutes, until cheese is fully melted.
Makes 2 panini.
Information
Category

Main Dishes, Sandwiches

Cuisine

Italian