Mango-Yogurt Smoothie Recipe
Fresh Starts: Mango-Yogurt Smoothie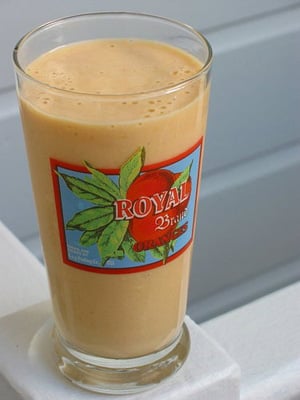 Anyone who knows me can attest to the fact that I'm not much of a morning person, so when it comes to weekday breakfasts, they usually involve whipping up the fastest meal possible that I can carry in one hand as I head out the door. I know it's not original, but these days I'm all about the smoothie; it's inexpensive to make, takes 30 seconds to blend, and can be enjoyed while walking to work, on the bus, or at the subway stop.
Since mangoes are in season, my favorite smoothie these days is a mix of cranberry juice, yogurt, and the fresh tropical fruit. The cranberry first struck me as random, but it adds a wonderful depth of flavor and a little more complexity. A better on-the-go breakfast, when you read more.


Ingredients
1 mango
1 cup sweetened cranberry juice
1 cup nonfat plain yogurt
1/2 cup ice cubes
Directions
In a blender, combine the 1 cup mango, cranberry juice, yogurt, and ice. Blend until frothy and smooth. Divide between 2 tall glasses and serve.
Makes 2 servings.
Information
Category

Drinks, Smoothies

Cuisine

North American