Marinated Steak Recipe
St. Valentine's Filet Mignon
Now that you know the technique to making perfect steak, here's a delicious-sounding recipe for marinated filet mignon. It comes from reader Aimee3242; she shared it in the Kitchen Goddess group in the YumSugar Community.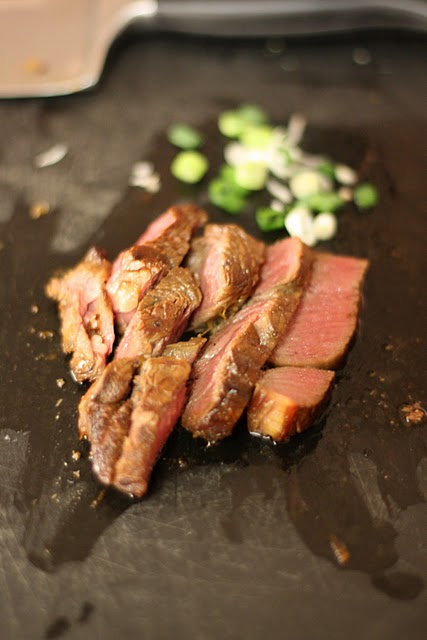 I cooked dinner for my boyfriend for Valentine's Day.  I marinated the meat overnight, and it tasted delicious, sweet, salty, tangy, with little citrus hints.  Let the meat rest for a few minutes before serving; it will let the juices redistribute and ensure that your steak is juicy.
Keep reading for the succulent recipe!
Marinated Filet Mignon:

 2 Filet Mignons
1/3 cup soy sauce
1/3 cup dry white wine
Splash of Tabasco
Zest and juice of 1 orange
Zest and juice of 1 lime
1 tbsp. brown sugar or honey
2 garlic cloves, smashed
1 shallot, roughly chopped
1 knob of ginger, roughly chopped
1/2 jalapeño, roughly chopped
1 scallion, roughly chopped
1 tsp. cracked black pepper
Bunch of cilantro or parsley
1 tsp. - 1 tbsp, canola oil
Put all ingredients (minus the oil) in a zip lock bag and marinate for a few hours, or overnight.  Let it come to room temperature when ready to cook.
Preheat oven to 375 F.  Heat a pan to medium high, add oil.  When the oil is hot, sear the meat on both sides for about 4 minutes.  Pop in the oven for 5-10 min.  Take out when medium rare.  Serve with a baked potato and some vegetables.
Got an amazing recipe? Upload it to the group and you may just be featured here!