Mario Batali on the Next Big Italian Ingredient Trend
Mario Batali Talks Hot Ingredients, Eataly, and Tony Bourdain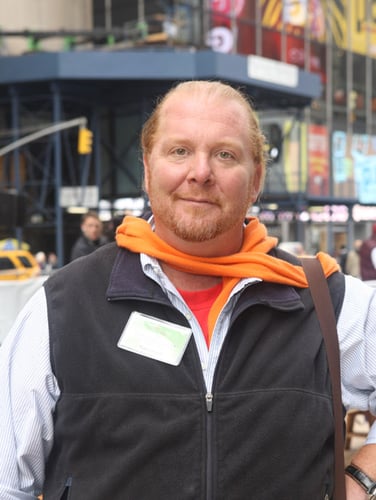 An expansive restaurant empire, a talk show, and a children's foundation aren't enough to keep Mario Batali busy; the chef also released his ninth cookbook, Molto Batali: Simple Family Meals From My Home to Yours, in the past week. Yet surprisingly, when we caught up with him, what we discovered was an underlying theme to his life philosophy: that of simplicity. Whether it's the return of the family meal, his healthy eating philosophy, or his plans for the holidays, everything in this chef's life seems to reflect his inclination toward a pared-down, rustic lifestyle.
We checked in with America's foremost Italian chef for an update on Eataly, his growing food emporium; the hottest ingredient in Italian cooking right now; and, his thoughts on the always-controversial Anthony Bourdain.
YumSugar: Family meal cookbooks seem to be a big thing right now. Why do you think that is, and what's the point of view of your cookbook?
Mario Batali: The family meal has always been an important part of the American psyche; it's just been on hiatus for a few decades. It all comes back to my belief that it's all about family, children, and confidence through the guise of deliciousness. Entertaining at home for family and friends rounds out the equation.
 
YS: What are your plans for the holidays this year?
MB: We'll be at our house in northern Michigan for Christmas. I bake the ham in my wood-burning oven.
YS: Porchetta has certainly had its moment in the spotlight. What's going to be the next big Italian ingredient?
Find out his answer when you keep reading.
MB: Cinghiale has the potential to become the next great Italian swine taking America — but Parmigiano-Reggiano will always be king.
YS: What's the most frustrating Italian cooking mistake that home cooks commit?
MB: Constant stirring. Let the pan do the work! Listen to it sizzle, and taste as you go.
YS: You've got such a following for your colorful quips and your culinary genius, and you're already a very accomplished cookbook author. Is a memoir something you've thought seriously about writing?
MB: Bill Buford's Heat borrowed a lot of material from my future memoir. My partner, Joe [Bastianich], is working on a memoir now. I read an early version — brilliant. But I have a few more years in me before I take to the pen.
YS: You've been really focused on healthier eating in the past few years. What are some of the wholesome food rubrics that you live by?
MB: My family does meatless Mondays every week. It's all about moderating portion size, and moving meat from the center to the side of the plate.
 
YS: Your food emporium, Eataly, is expanding to LA and DC. Where are you with that? Have you found locations and figured out opening dates yet?
MB: We're still in the midst of scouting. We're considering locations all over, not just LA and DC; we're talking about Toronto and Mexico City, too. It'll be somewhere with foot traffic.
YS: On that note, public food markets seem to be taking off here. Why is that?
MB: It's a European model with a twist. The concept is built around the Italian piazza model. When you stand in the center of town, you have your fish monger, your butcher. It's all fresh and delicious.
YS: In your opinion, what's the most exciting restaurant in the world right now?
MB: A few chefs like René Redzepi are doing really exciting things in Denmark and the Nordic states, but Spain is always pushing the edge in the culinary world.
 
YS: Your new show, The Chew, has elicited varying reactions from the food world. What do you say to the naysayers, like Tony Bourdain, who said he was "shaken" by it?
MB: Tony is a good pal and I appreciate his concern, but our audience is out in America. It's network TV; we want it to be far-reaching, inspirational, and not condescending. It's fun. Tony will come around.
 
YS: At this point in your career, you could choose to live anywhere in the world, yet you split your time between New York and northern Michigan. What is it about the Great Lakes State that you find so alluring?
MB: Michigan is my antidote to Manhattan. It's where I go to relax. I couldn't love New York more, but a Summer on the lake is unbeatable. At the end of the Summer, however, New York City is the antidote for Michigan calm.