Mario Batali Quotes
Mario Batali's Quips on Restaurants Today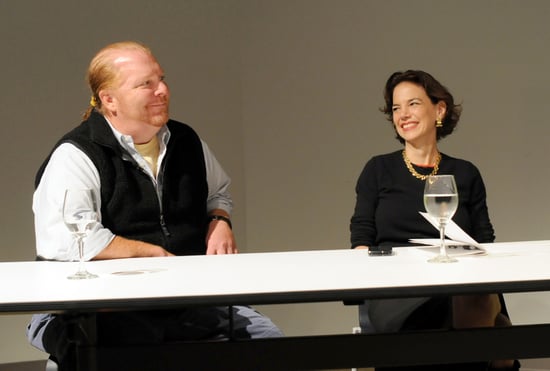 To kick off the third morning of the NYC Wine & Food Festival, four of the industry's top tastemakers, restaurateurs Mario Batali and Marcus Samuelsson, TV host Andrew Zimmern, and Food & Wine editor in chief Dana Cowin gathered for a panel discussion to talk about what makes the best restaurant experience.
They all had plenty to say about the state of dining — especially the jocular Batali. Here are just a few of his one-liners.
On turning tables: "We have loud music at Babbo while you're eating soigné food. From 7:30 to 8:15 p.m. we turn it up and make it faster to get people out of there."
On tables in New York: "The beauty of New York is, even if five million people on Yelp hate me, there are still eight million left."
On how far the industry's come: "Thirty years ago, restaurant staffs were people who just got out of jail or people who'd just gotten out of the military and were on their way to jail."
Keep reading for the rest of Mario Batali's restaurant zingers.
On menu must haves: "Joe Bastianich says we have to have Caesar salad, salmon, and tiramisu."
On food photography: "Flash photography in a restaurant ruins the experience. But you want to pick up a phone, take a picture? Doesn't bother me."
On how to get the ultimate restaurant experience: "Even the fanciest restaurant can be a lot of fun if that's what we establish up front. The best way to get the best restaurant experience is to announce your intentions beforehand. Then, you're no longer 'show me,' you're 'share with me.'"
On what restaurants should be: "Authentic, genuine, inspired, tasty, and fun!"
Photo Credit: Seton Rossini