Mario Batali Sicilian Cooking
Mario Batali Wants You to Eat Like a Sicilian This Summer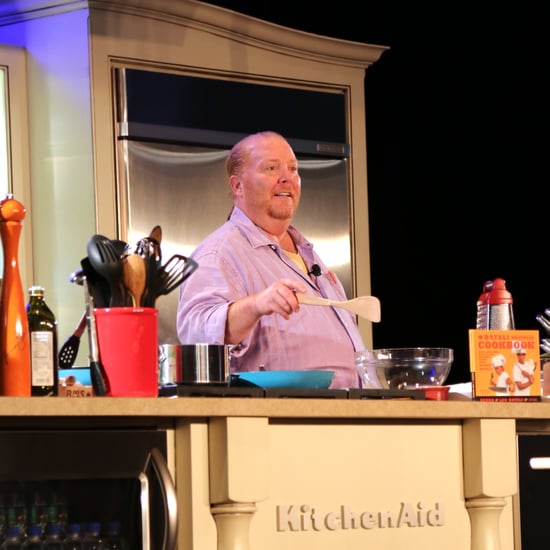 Chef Mario Batali's demo at the Food & Wine Classic in Aspen focused on the enlightened way of cooking and eating like a Sicilian during the summertime. In true Italian fashion, chef Batali had the crowd roaring with laughter as he spewed parsley, salt, and cheese every which way. Despite his messy and haphazard preparation, he plated gorgeous and perfectly cooked Italian food, not before taking a bite, sighing longingly, and stating the obvious: "Damn, I'm a good cook!"
Keep reading for his advice on cooking like a Sicilian this Summer.
Amp up the veggies: Push proteins to the side and eat more grains and vegetables.
Season and oil liberally: Mario's recipes may call for a scant teaspoon of salt and a tablespoon of oil, but during his cooking demonstration, the chef rolled his eyes and threw in an "aggressive pinch of salt" and splashed a heavy pour of oil into his pan.
Explore measurements in recipes: That being said, chef Batali added, "Recipes are a road map, not a set document." He encouraged the crowd to salt, season, and adjust recipes until the dish tastes right.
Cook once a day: The weather is hot in Sicily, so many cook once during the day and store the food in the fridge, the wine cellar, or at room temperature. This method frees you up to hang out with company in the evening rather than being stuck in the kitchen . . . "unless you don't like the company," he joked. Then you should cook something elaborate that evening.
Drink then cook with the same wine: That's right; open the bottle you'd like to drink while cooking and use it as the cooking wine too. Mario recommends Sicilian Planeta wines.