Mario Batali's Summer Cooking in Michigan
What Mario Batali Is Craving This Summer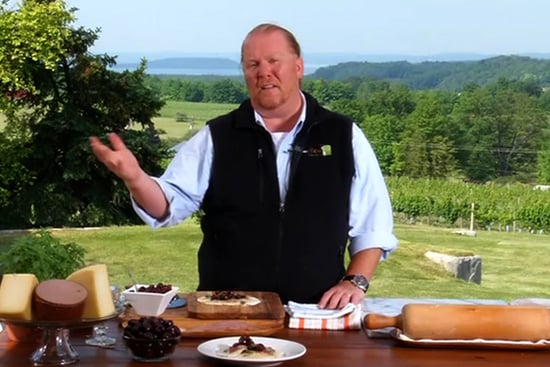 Mario Batali has restaurants on both coasts, but during the Summer, the Italian-American chef is inspired by a unexpected locale: Michigan. Each Summer, chef Batali, his wife, and his kids pack up and head to their Michigan home, complete with a picturesque view of the lake and an outdoor wood-burning oven. Get ready to be envious: the chef shares photos of his whereabouts and family meals via Twitter.
What's the appeal for serious foodies who might not be familiar with Michigan? Mario claims he really loves that Michigan's food culture is "unique and unapologetic." In terms of ingredients, he says Michigan offers local fish and magnificent stone fruit that can obviously be shipped anywhere, but are best enjoyed "right out of the water, right out of the dirt, or right out of the tree." While at a Pure Michigan event, Mario Batali spoke to us about what he's craving this Summer and how to prepare it.
What he's craving in the height of Summer: "I'm craving something that's light, something that's got a lot of kind of bright acidity to it. I'm always looking for something like a salad, or even if I'm cooking something on the grill, I'm looking for a condiment that will go with it. What I'm looking for most importantly is that kind of brightness that says, 'You can only get this now,' and understanding seasonality is exactly that."
Why seasonality is important for produce: "As a chef who has access to raspberries 365 days a year, you can be pretty sure that I only eat raspberries when they're local and in season. When you eat a raspberry or whatever it is, wherever you happen to be, something that's local and is grown right there, tastes 10 times better when you get it right when it's perfect."
His versatile way to prepare cherries: "I'll take some Michigan cherries and I'll dress them with a little extra-virgin olive oil, some chopped jalapeños, a little cilantro, and some red wine vinegar. Suddenly, I'll have something that almost behaves like a pickle relish. I'll put it on my sandwiches. I'll serve it with beans and rice. I'll put it on top of my pizza. I'll eat it like a salad just out of the refrigerator."