Mario Batali Wines
Happy Hour: Mario Batali Prosecco and Chianti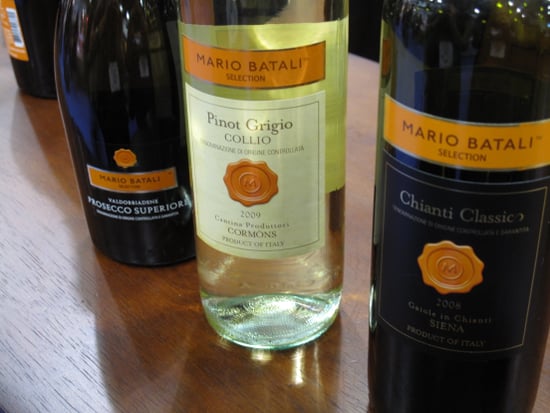 In between the Guy Fieri salsa and the bacon salt stands at the Fancy Foods Show, Team Yum stumbled upon something we had never seen before: Mario Batali wine. Unlike the orange-clogged chef's pasta sauces, the wine bottles do not have Batali's face plastered across the front of them. Instead, the new bottlings are elegantly labeled and expected to hit the West Coast market at Cost Plus stores soon.
We tasted two of the three varietals, the Prosecco and Chianti (the Pinot Grigio wasn't chilled), and were pleasantly surprised by the drinkability of both. The Prosecco was a classic sparkler true to the Veneto region of Italy with a delightful dryness, crisp body, and simply delicious flavor. The Chianti was earthy, smooth, and full-bodied. Both will retail at under $20, making them an affordable option for your everyday wine selection.
So tell me: the next time you follow one of Batali's recipes, would you be interested in pairing it with one of his wines?