Snake Cake With Venom Glaze
From Martha Stewart Living [5]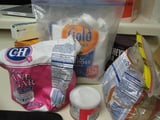 Ingredients
For the crust
1/2 cup plus 2 tablespoons all-purpose flour
2 tablespoons unsweetened Dutch-process cocoa powder
1/4 teaspoon baking powder
1/4 teaspoon baking soda
1/8 teaspoon salt
2 ounces (4 tablespoons) unsalted butter
1/3 cup packed light-brown sugar
2 tablespoons plus 1 1/2 teaspoons granulated sugar
1 large egg yolk
1/2 teaspoon pure vanilla extract
For the filling
2 1/4 cups granulated sugar
1/4 cup plus 1 1/2 teaspoons all-purpose flour
1 tablespoon plus 1 1/2 teaspoonsunsweetened Dutch-process cocoa powder
2 pounds plus 10 ounces cream cheese, softened (from six 8-ounce blocks)
3/4 cup sour cream
3/4 teaspoon pure vanilla extract
3 large eggs plus 1 large yolk
6 ounces bittersweet chocolate (preferably 61 percent cacao), melted and cooled slightly
Boiling water, for pan
For the glaze
8 ounces bittersweet chocolate (preferably 61 percent cacao)
1 tablespoon corn syrup
1 1/4 cups heavy cream
For the decoration
Snake stencil [6]
Green and red* powdered food coloring
Directions
Make the crust: Whisk together flour, cocoa powder, baking powder, baking soda, and salt in a large bowl. Beat butter and sugars with a mixer on medium speed until pale and fluffy, 2 to 3 minutes. Beat in yolk and vanilla. Reduce speed to low, and mix in flour mixture, scraping down sides of bowl as needed.
Preheat oven to 350 degrees. Press dough evenly into bottom of a 10-inch springform pan** to form a 1/4-inch-thick crust. Let chill in freezer for 15 minutes. Bake until firm, about 15 minutes. Transfer pan to a wire rack, and let cool completely. Leave oven on.
Make the filling: Whisk together granulated sugar, flour, and cocoa powder. Beat cream cheese with a mixer on medium speed until fluffy, scraping down sides as needed, about 3 minutes. Reduce speed to low. Gradually add the sugar mixture, and mix until smooth. Add sour cream and vanilla, and mix until smooth. Add eggs and yolk, 1 at a time, mixing just to combine after each addition. Add chocolate, and mix until combined.
Wrap exterior of springform pan with a double layer of foil. Pour filling onto prepared crust, and set springform pan in a large roasting pan. Fill roasting pan with enough boiling water to reach halfway up the sides of springform pan. Bake cheesecake for 45 minutes.
Reduce heat to 325 degrees. Bake until set but slightly wobbly in the center, about 30 minutes more. Turn oven off; leave cake in oven with door ajar for 1 hour.
Transfer springform pan to a wire rack, remove foil, and let cake cool completely. Run an offset spatula or a knife around edge of cake, and carefully unmold. Set cake on wire rack set over a rimmed baking sheet.
Make the glaze: Combine chocolate and corn syrup in a small bowl. Bring cream to a boil in a small saucepan over medium heat. Pour cream over chocolate. Let stand for 5 minutes. Whisk until smooth. (Do not whisk too much or bubbles will form). Let cool for 10 minutes.
Decorate the cake: Pour glaze over cake in a circular motion, starting at the center and slowly moving outward toward the edge, to cover entire surface. Refrigerate, uncovered, until set, at least 4 hours (or overnight). Cake can be refrigerated for up to 2 days.
Set snake stencil on cake: Print template. Place it under a sheet of calendar vinyl. Use a permanent marker to trace the outline and the snake design onto vinyl. Working on a cutting mat, use a craft knife to cut along the lines. Work slowly and carefully. The vinyl will dull the knife's blade; change the blade as necessary. Sift green powdered food coloring over snake, avoiding the tongue, Carefully sift red powdered food coloring over tongue.
Serves 10-12.
*I used pink sugar instead of red, because that's what I had on hand.
**I made this in a 9-inch springform pan and had lots of leftover batter [7].
Information
Category

Desserts, Cheesecake