Martin Cate's Classic Harvey Wallbanger Recipe
Happy Hour: Classic Harvey Wallbanger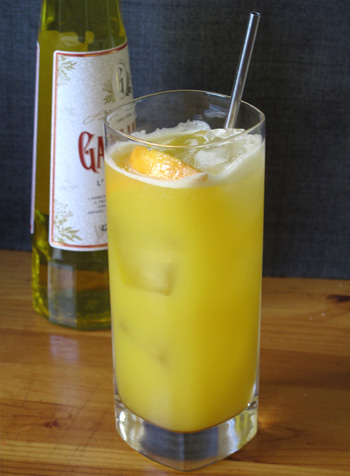 OK, so the fern bar isn't ripe for revival just yet, but the Harvey Wallbanger, the mainstay of that era, has made something of a comeback.
"Harvey is essentially a lemonade, only with vodka," cocktail historian Martin Cate explained of the familiar-flavored drink. "People love orange juice, vanilla, the herbal quality."
Indeed, the Harvey has managed to top San Francisco menus in many incarnations: with bubbly, alongside brunch, and as a classic pitcher standard — just like in the 1970s when, Cate said, the drink "became a cultural phenomenon.
"They used to sell a party kit with cartoons dressed up named Harvey Wallbanger, and it gave you a recipe for how to make a giant punch bowl. The Wallbanger was a big deal."
To enjoy a blast from the past in your own home, you'll need Galliano, an anise-tinged Italian liqueur. Cate recommends using the brand's new formula, which has more alcohol and less vanilla sweetness, and he prefers to incorporate the liqueur rather than floating it. To achieve an authentic version of the seventies classic, read more.
Ingredients
4 ounces fresh squeezed orange juice
1-1/2 ounces vodka
3/4 ounce 84.6 proof Galliano (new formula)
Directions
Combine all ingredients into a shaker with ice and and shake until well chilled.
Strain into an ice-filled collins glass. Garnish with an orange slice.
Makes 1 cocktail.
Information
Category

Drinks, Cocktails

Cuisine

North American