Masaharu Morimoto at the 2010 Aspen Food & Wine Classic
Morimoto Shows Off His Crazy Knife Skills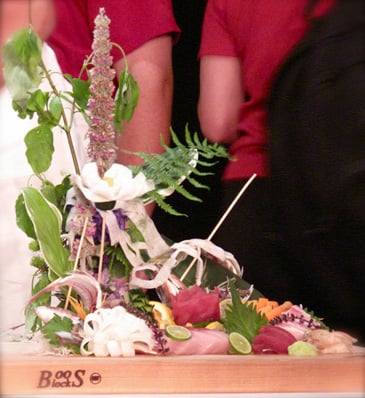 Masaharu Morimoto's cooking demo in Aspen was exactly that: a demonstration. To be more specific, it was a mind-blowing demonstration of how stupefyingly skilled he is in the kitchen.
The Iron Chef began by making a fried fish cake noodle soup, first puréeing white fish with egg whites, potato starch, and soy, then piping the tacky, moist mousse into simmering fish broth to form udon-like noodles, which were finished with a flash-fry in vegetable oil.
But the real show began when Morimoto pulled out his mad Japanese knife techniques to create the most stunning sashimi platter that I've ever seen. Read more about it after the jump.
In less time than it takes to boil water, the chef descaled and filleted four or five fish of different shapes and sizes. Then came the best part: in the same circular way that Annie Reed used a paring knife to peel an apple in Sleepless in Seattle, Morimoto used a giant, ultrasharp chef's knife to shave carrots and daikon into long, paper-thin sheets. He carefully sliced the sheets into ribbons, crafting gorgeous roses and fish nets with them as garnishes for his raw tablescape. He also taught us the following:


Use salt to draw out the fishiness in seafood.
Skin can be fishy, so when storing fish, try to avoid any physical contact between silver skin and fish flesh.
To bring out the flavor of jalapeños, flash-fry them in oil.
Next time you're eating sushi at a restaurant, order bluefin tuna and tamago; they're signature sushi dishes that each chef has a unique way of preparing.
What would you ask Morimoto if you had a chance to meet him in person?