Matcha Marshmallows
Matcha Marshmallows: A Sweet, Pillowy Treat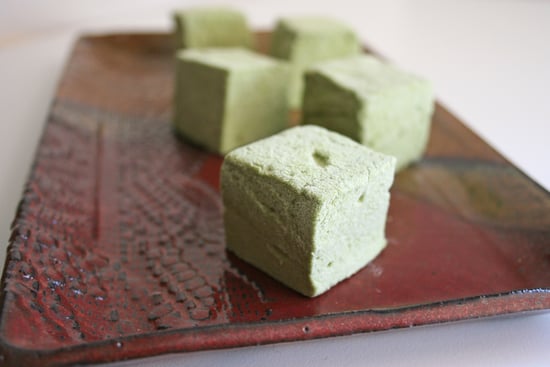 When we received canisters of the Republic of Tea U-Matcha ($18), our eyes lit up as our imaginations brewed all the possible matcha-flavored recipes we could create. Thus far, I've made matcha tea three ways and matcha salad dressing. Nicole gets a serious surge of excitement over shortbread, which inspired her take on matcha shortbread. As for me, marshmallows are my most coveted sweet, which means I had to develop this recipe immediately.
Instead of the more commonplace addition of vanilla extract, add a matcha slurry of the tea whisked with a little water. The mallows are coated in a vibrant jade powder, made of confectioner's sugar, cornstarch, and matcha. As for the flavor, those who love matcha and green tea will find these pillowy treats don't skimp out on the roasted, earthy green tea flavor. If the bitterness of matcha's a bit much for you, feel free to scale back to the amount listed in the recipe.
Either way, these matcha marshmallows are slightly grassy on the nose but taste like a foamy, sweetened green tea latte. Eat the marshmallows alone or toss them in hot milk chocolate or a tea latte. Swirl them into ice cream or frozen yogurt. I'm even dreaming up a Japanese-style s'mores recipe . . . More on that later, but for now check out the matcha marshmallow recipe.
Ingredients
1/4 cup confectioner's sugar
1/4 cup cornstarch
1 tablespoon plus 1 teaspoon matcha powder, divided
Nonstick spray
3 packages unflavored gelatin
1 cup plus 1 tablespoon ice cold water, divided
1 1/2 cups granulated sugar
1 cup light corn syrup
1/4 teaspoon kosher salt
Directions
Sift confectioner's sugar, cornstarch, and one teaspoon matcha powder together in a small bowl. Lightly spray a metal baking pan with nonstick cooking spray. Add a little green confectioner's sugar mixture to the pan and lightly tap to coat the bottom and sides. Return any remaining mixture to the bowl for later. Also lightly coat the offset spatula with nonstick spray and set aside for later.
Whisk together the gelatin and 1/2 cup water into a small bowl and let sit for five minutes until the gelatin is dissolved.
In a small heavy-bottom saucepan, combine 1/2 cup water, granulated sugar, corn syrup, and salt. Cover and cook over medium high heat for three to four minutes. Uncover, clip a candy thermometer onto the side of the pan, and continue to cook until mixture reaches 240ºF, approximately seven to eight minutes. Immediately remove from the heat.
Turn the mixer on low speed and slowly pour the sugar syrup down the side of the bowl into the gelatin mixture. Increase the speed to medium high and allow the mixture to whip for six minutes.
Meanwhile, create a slurry with one tablespoon of matcha powder and one tablespoon of water. Mix until no dry parts remain. If the mixture is too dry, add another teaspoon of water.
Return to the mixer and turn speed up to high and whip another six to eight minutes, or until mixture becomes very thick and is lukewarm. Add matcha slurry during the last minute of whipping.
Quickly pour the mixture into the prepared pan, using the lightly oiled spatula to spread the mixture evenly in the pan. Generously dust the top of the marshmallow with the sugar and cornstarch mixture. Reserve the rest for later. Allow the marshmallows to sit uncovered for four to eight hours.
Turn the marshmallows out onto a cutting board and use a pizza wheel to vertically and horizontally cut marshmallows into one-inch-square pieces. Dust the newly cut marshmallows with the remaining sugar and cornstarch mixture. Store in an airtight container for up to three weeks. If marshmallows become too moist over time, redust them with any leftover sugar and cornstarch mixture to "refresh" them.
Makes about 50 square marshmallows.
Notes:
If you like the flavor of matcha, add an additional teaspoon to the confectioner's sugar and cornstarch mixture. It will also intensify the green color of the marshmallows.
Do not attempt to directly pour the matcha powder while the mixer is on high speed. The powder will fly everywhere, and your kitchen will be perpetually green! Making a slurry prevents a mess from occurring, so take heed.
Information
Category

Other, Desserts

Cuisine

North American