Matcha Shortbread Recipe
From Cup to Cookie: Matcha Almond Shortbread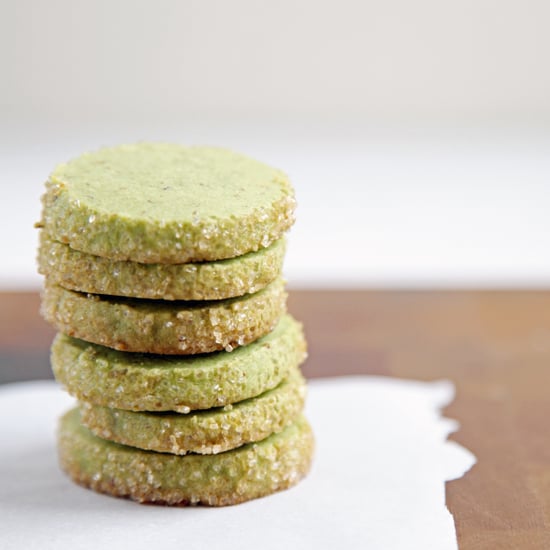 Living with a caffeine junkie means that much of our counter space is devoted to its consumption. Nespresso pods, coffee beans, cans of Diet Coke, rogue bottles of 5-Hour Energy, and a whole host of tea bags seem to multiply overnight; but until recently I hadn't experimented much with consuming caffeine in solid form.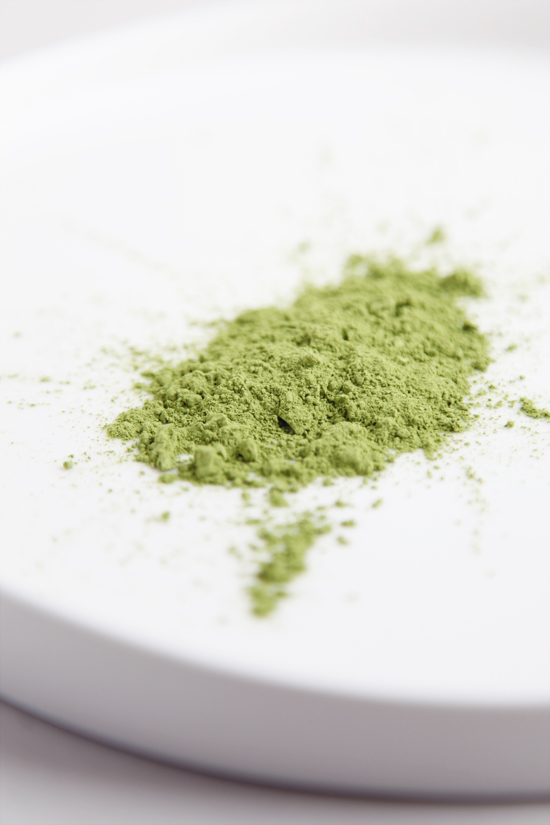 Coffee has long been the star "secret" ingredient in chocolate desserts, adding depth and bitterness to chocolate cupcakes, coffee toffee crunch bars, chocolate mascarpone trifles, and the like, but I'm more of a tea drinker, so hadn't given it much play. That is, until I had my first bite of green tea mochi covered ice cream; the green tea's delicate but savory flavor had me reaching for seconds.
While at first glance you might assume that green tea ice cream and the like gets its signature grassy and nutty perfume from brewed tea leaves, more often than not it's spiked with matcha, a finely ground green tea powder, that's extremely popular in Japan. Its intense flavor shines when paired with most anything creamy or nutty, so these buttery shortbread cookies were a surefire hit, and were devoured in record time.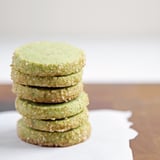 Ingredients
7 tablespoons unsalted butter, at room temperature
6 tablespoons (1-1/2 ounces) powdered sugar, sifted
1 egg yolk, at room temperature
3/4 cup (3-3/4 ounces) all purpose flour
1/2 teaspoon kosher salt
6 tablespoons (1-3/4 ounces) almond meal
2 teaspoons matcha tea
2 tablespoons turbinado sugar
Directions
In the bowl of a stand mixer, beat together the butter and powdered sugar, until lightened in color, and fluffy. Add the egg yolk, and mix until no streaks of egg remain.
Sift together the flour, salt, almond meal, and matcha into a medium mixing bowl, breaking up any clumps by pressing through the sieve if necessary.
Add the flour mixture to the mixer bowl, in one addition, and mix until it sticks to itself, and forms a cohesive ball.
Dump the dough out onto a piece of plastic wrap, and form into a log with a roughly 2-inch diameter. Wrap tightly with plastic wrap, and freeze for 40 minutes, or until firm.
Meanwhile, preheat the oven to 350ºF and line a cookie sheet with parchment paper.
Unwrap the cookie dough log, and roll it in the turbinado sugar, pressing down to ensure that the sugar sticks to the surface.
Using a very sharp knife, cut into 1/4-inch slices, and arrange on the prepped baking sheet (you may need two, or to do it in two batches).
Bake the cookies for about 9 minutes, or until the bottoms have begun to brown. Move the cookies to a cooling rack, and enjoy!
Makes about 20 cookies.
Notes:
While any high-quality matcha will work in this recipe, we're partial to U-Matcha.
Almond meal can be found at Trader Joe's or specialty supermarkets. Alternatively, make your own from whole almonds.
Information
Category

Desserts, Cookies

Cuisine

North American