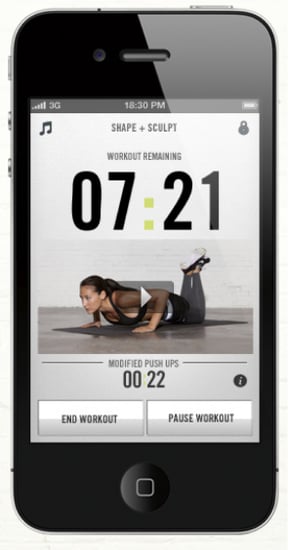 One of the most common fitness hurdles that women face is feeling like they're stuck in rut with workout routines. And it's true. Doing the same exercises over and over cannot only get monotonous, but you may also be selling yourself short at the gym. By mixing up workouts, you're keeping yourself motivated while making sure you continue to engage different parts of your body.
That's why we're loving The Nike Training Club. It is your personal trainer anytime, anywhere. It's an app you can download to your iPhone®, iPod Touch®, or iPad® and offers full-body workouts that you can do just about anywhere. By inputting your goals and fitness level, the app will give you over 70 workouts to choose from, so you'll never be bored at the gym again. By getting lean, toned, and strong results and routines to workouts targeted just to specific body parts, you're guaranteed to find a bevvy of workouts that will help you stay on track with your fitness goals.
Try it for yourself! Tell us your fitness goals in the comment box below, and you'll be entered for a chance to win a 64GB iPod Touch®, so you can download the Nike Training Club app. Read the rules here, and start hitting the gym!