Mayo-Free Waldorf Salad Recipe
Mayonnaise Haters, Try This Twist on the Classic Waldorf Salad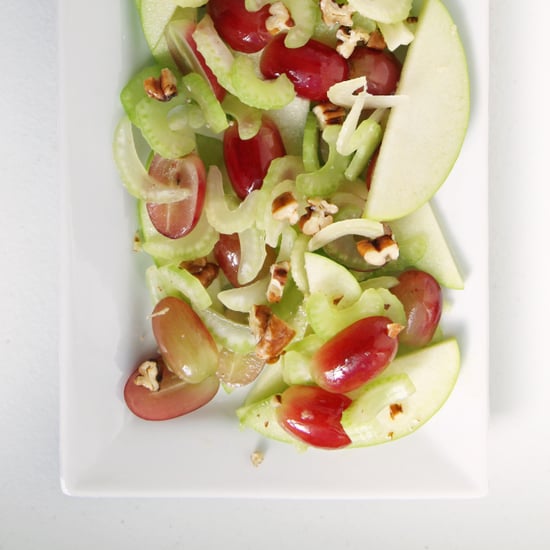 Try as I might, I've never been able to get over a long-seated mayonnaise aversion. While its full-bodied creaminess adds dimension and a silky texture to a whole host of classic dishes, I recoil in fear at the barest glimmer of the condiment.
For the most part, I've been able to get on with my life — let's be real, this is a quintessential first-world problem — but at the same time, I often feel as if I'm missing out on something essential. Classics like potato salad, tomato-mayonnaise sandwiches, and Waldorf salads have graced my lips but a handful of times in my two-plus decades of life. That is, until now. . .
As is often the case, the simplest solution is the most successful; leave out the mayonnaise, and the resulting pared-down iteration of this classic bite shines.
Now that I've spilled the beans on my angsty aversion, I'm curious: what foods do you fear?
Ingredients
1 tablespoon sparkling wine or white-wine vinegar
1 tablespoon walnut oil or extra-virgin olive oil
Kosher salt and freshly ground pepper
1 Granny Smith apple, cored, quartered, and thinly sliced
1 cup seedless red grapes, halved
2 celery stalks, thinly sliced, plus leaves for garnish
1/4 cup coarsely chopped pecans or walnuts, toasted
Directions
In a large bowl, whisk together the vinegar, oil, a pinch of salt (to taste), and pepper.
Add the celery, grapes, apple, and pecans to the bowl, and toss to coat with dressing.
Garnish with celery leaves, and serve.
Serves 4.
Information
Category

Side Dishes, Salads, Fruit

Cuisine

North American