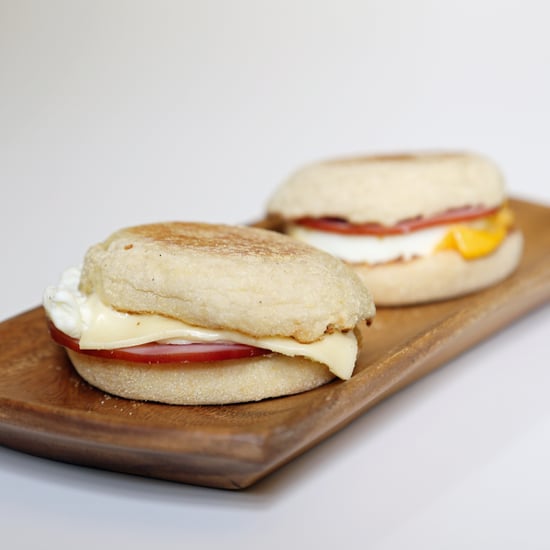 McDonald's Egg White Delight McMuffin (left) and Egg McMuffin (right)
I take whole milk (or even half-and-half) in my tea and have been known to add an extra yolk to my morning scramble, so to say that I'm not the intended demographic for the latest McDonald's offering — the Egg White Delight McMuffin — is an understatement. Still, I tried to put my bias aside. I snapped up the Gabby Douglas-endorsed breakfast sandwich and sat down with our food team to see if it stacks up to the beloved original. Thanks to a swap of egg whites for the original griddled egg, the Egg White Delight McMuffin has 50 calories fewer and nearly half the fat of its classic counterpart. There's one other subtle substitution — white cheddar instead of American cheese — but the new option is otherwise unchanged.
Though McDonald's has found itself at the center of egg controversy in recent years, the star of the McMuffin is undoubtedly still the egg. How would a switch-up in the sandwich's standout ingredient, we wondered, affect the chain's bestselling breakfast sandwich? Keep reading for the answer and to find out which McMuffin we'd pick.
Post-tasting, our trusty group of tasters was split down the middle. Half preferred the original, citing its richer flavor, though nostalgia for the guilty-pleasure bite may have been a factor. Those on team egg white (surprisingly, myself included) preferred the fluffier, almost fresher texture of the egg white, as it took the slightly grainy, hard-cooked yolk out of the equation. The white cheddar is tangier than the American cheese, which makes up for any loss of decadence.
If you're a die-hard fan of the Egg McMuffin, stick to what you know and love. But if you are looking for a less-indulgent option or can't tolerate hard-cooked yolks, the latest McDonald's offering just might delight.