Meatball Slider Recipe
Fast & Easy Dinner: Meatball Sliders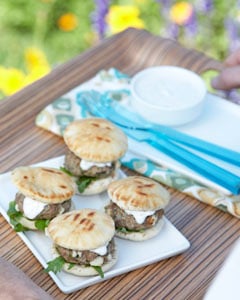 If the middle of the week has got you down, why not cheer up with cheeseburgers? This recipe for meatball sliders seasons the beef with breadcrumbs, sage, and lots of parmesan cheese.
They're quick to put together and fun to eat. The smaller size means you can indulge without the guilt. Serve the sliders with salad greens, couscous, or grilled potatoes. Want the recipe? Get it right here.


Ingredients
1 pound ground round or sirloin
2/3 cup panko or regular dried breadcrumbs
1/2 cup grated Parmesan cheese
3 tablespoons minced fresh sage or 1 1/2 tablespoons dried and crumbled
1 large egg
Sea salt
Freshly ground black pepper
12 slices French bread, 3/4 inch thick
2 tablespoons olive oil
About 1/2 cup spicy ketchup or tomato chutney, or a spicy tomato-vegetable spread like Ajvar (see Note)
Directions
In a large bowl, thoroughly combine the ground meat, panko, Parmesan, sage, egg, and a generous amount of salt and pepper.
Work the meat to thoroughly incorporate all the ingredients and form into 12 two-inch sliders.
Place the bread slices on a plate and drizzle both sides with the oil.
Preheat a grill for high direct heat, about 425 degrees F. Place a clean grill rack on the grill and let it get hot for about 3 minutes.
Cook the sliders for about 4 minutes on each side, covered, for medium-rare and up to 5 or 6 minutes for well done. During the last minute, place the oiled bread on the grill for about 30 seconds on each side, or until golden brown and lightly toasted.
Place the toast on a large serving plate. Spoon 1 teaspoon of the tomato ketchup or chutney on each piece of bread and spread. Top with a slider and serve hot.
Makes 12 sliders.
Note: You can find spicy ketchup, tomato chutney, and Ajvar or Lutenica at specialty food shops. You can also simply spike a store-bought ketchup with hot pepper sauce until it is spicy.
Information
Category

Main Dishes, Beef

Cuisine

North American