Meatless Recipe For Veggie Burgers With Mushrooms
Sunday Dinner: Veggie Burgers With Mushrooms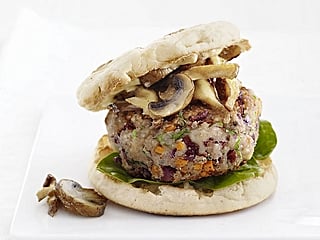 This week, after a few too many drinks at CUESA's Farmers Market Cocktails Night, I heeded the cries coming from my stomach and headed over to Gott's Roadside.
I decided to opt for a burger without the beef, and I've been dreaming about it ever since. The perfect veggie burger has a charred exterior, a meaty texture, and a fresh quality to it that keeps it satisfying yet light.
Inspired by Gott's, I'm making my own mushroom-topped meatless patties, a combination of beans, breadcrumbs, and walnuts — plus a few secret ingredients. Want to get in on the recipe? Then read more.
Veggie Burgers with Mushrooms
Ingredients
1 15-ounce can kidney beans, drained and rinsed
1 small red onion, shredded and squeezed dry (about 1/2 cup)
1/3 cup chopped walnuts
1 small carrot, finely diced
1 cup plain or whole-wheat breadcrumbs
2 scallions, white and green parts, finely chopped
2 tablespoons chopped fresh parsley
2 teaspoons Worcestershire or soy sauce
Kosher salt and freshly ground pepper
3 tablespoons extra-virgin olive oil
3 cups assorted mushrooms, sliced
4 English muffins, split and toasted
Mayonnaise and/or mustard, for garnish
Baby spinach or arugula, for garnish
Directions
Smash the beans in a bowl with a potato masher or fork until slightly chunky. Add the onion, walnuts, carrot, 1/2 cup breadcrumbs, scallions, parsley and 1 teaspoon Worcestershire sauce. Season with salt and pepper and mix with your hands until combined.
Spread the remaining 1/2 cup breadcrumbs on a plate. Form the bean mixture into 4 patties; lightly coat with the breadcrumbs, shaking off any excess. Heat 2 tablespoons olive oil in a large nonstick skillet over medium-high heat. Add the patties and cook until golden and slightly crisp, 2 to 3 minutes per side. Transfer the burgers to a plate.
Heat the remaining 1 tablespoon oil in the same skillet over medium heat. Add the mushrooms and the remaining 1 teaspoon Worcestershire sauce; season with salt and pepper and cook until the mushrooms are slightly wilted, 3 to 4 minutes. Serve the burgers on the English muffins with mayonnaise and/or mustard, baby greens and mushrooms.
Makes 4 burgers.
Information
Category

Main Dishes, Beans

Cuisine

North American