Mediterranean Salmon and Noodle Bowl Recipe
Fast & Easy Dinner: Mediterranean Salmon and Noodle Bowl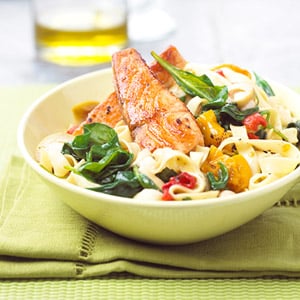 It's the middle of the week and you're feeling rushed, tired, and not in the mood to make dinner. Why not take some help from the grocery store and throw together an easy pasta and salmon dish? The secret ingredient is a bottle of balsamic vinaigrette salad dressing. It's quick and uncomplicated, and shhh, I promise I won't tell. Toss the dressing with fresh fettuccine, wilted spinach, and jarred roasted red peppers, then plate with thick-cut salmon fillets. It's healthy, filling, and just the sort of meal to get you through hump day. Want the recipe? Read more.
Mediterranean Salmon and Noodle Bowl
Ingredients
1 9-oz. pkg. refrigerated fettuccine
2 Tbsp. olive oil
1 lb. skinless, boneless 1-inch thick salmon, cut in 8 pieces
Salt and ground black pepper
6 cups packaged fresh baby spinach
1/2 cup jarred roasted red or yellow sweet peppers
1/2 cup reduced-calorie balsamic vinaigrette salad dressing
Directions
Prepare pasta according to package directions.
Meanwhile, brush 1 tablespoon olive oil on salmon. Sprinkle with slat and pepper. Heat an extra-large skillet over medium heat; add salmon. Cook 8 to 12 minutes or until salmon flakes, turning once. Remove salmon; cover and keep warm.
Add spinach, sweet peppers, and remaining oil to skillet. Cook and stir 1 to 2 minutes, until spinach is wilted.
Drain pasta; add to skillet. Add dressing; toss to coat. Season with salt and pepper. Divide spinach-pasta mixture among four bowls. Top with salmon.
Serves 4.
Information
Category

Pasta, Main Dishes

Cuisine

Mediterranean/Middle Eastern