Meet Feijoas, Also Known as Pineapple Guavas or Guavasteens
If You Like Guavas, You'll Love the Feijoa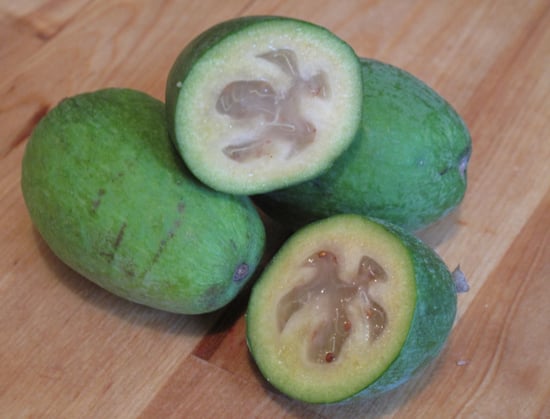 I love discovering lesser-known fruits — my recent finds include white sapotes and tayberries — so I couldn't say no when specialty produce company Frieda's offered to send me an exotic fruit called the feijoa. Pronounced "fe-ho-a," feijoas (also known as pineapple guavas or guavasteens) originated in South America and are related to — you guessed it — the guava. Learn more about them when you keep reading.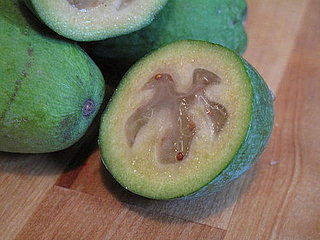 Today, pineapple guavas can be found all over the world in places such as California, Chile, and New Zealand, where they're a popular garden tree. Although they resemble guavas, these miniature fruits are only three inches long — slightly larger than an egg. Like their guava cousins, they have a dark lime green color and a bumpy, glossy skin, which gives slightly to gentle pressure when ripe.
Feijoas also emit a delightful fragrance, one that's reminiscent of guava. I cut a few in half and dug in with a spoon (later, I learned the skin is edible). They possessed the same gritty texture as guavas, but I detected more pineapple, melon, citrus, and even banana flavors. While the center is soft and sweet with jelly-like edible seeds, the flesh near the skin is tart and ever-so-slightly slightly bitter.
Frieda's suggested serving them in chutney, sorbet, salad, and even curry, but I couldn't stop eating them out of hand, just as they were intended to be enjoyed by nature. Have you ever tried guavasteens, or any similar fruit?