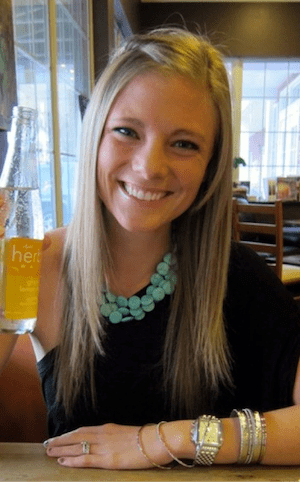 Julie Fagan is the blogger behind Peanut Butter Fingers, a lighthearted blog that follows Julie's life as she strives to exercise regularly, eat (mostly) healthy, and enjoy life in Ocala, FL, with her husband and their crazy dog. Peanut Butter Fingers is updated multiple times a day with sweaty workouts, simple, healthy recipes, and random anecdotes from Julie's life as a freelance writer and blogger. Julie is a FitFluential Ambassador and her work and blog have been featured in national magazines, including SHAPE, Fitness, Glamour, Women's Day and Women's Health. You can also find her on Facebook and Twitter

You know you've become a little too obsessed with a new pair of gym shoes when your dog gets excited every time you reach for them because she knows that means it is playtime! While I'm a sucker for the Reebok SmoothFlex Run sneakers (with the neon orange laces!), I think my dog, Sadie, may be an even bigger fan.

Keep reading for more tips on CrossFit and using Pinspiration for fitness.


I'm still trying to figure out a way to bottle up her enthusiasm and market it to the masses, but until then, I'll use the excitement she exhibits when I grab my sneakers to continue to motivate me to get outside and exercise with her.
Back in May, I had the opportunity to fly from Florida to visit the Reebok headquarters in Canton, MA, for a fun blogger event. Bloggers were able to participate in a CrossFit and dance workout, tour Reebok's facilities, and get a sneak peek at Reebok's latest shoes and apparel. My eye is immediately drawn to anything neon, so Reebok's latest neon apparel and shoes appealed to me right off the bat.




During my time at Reebok, the other bloggers and I learned a lot about the company's relationship with CrossFit and their passion for fitness. We then listened to employees talk about the importance of Reebok gear working for everyone in the way they choose to workout, whether it be CrossFit, running, aerobics, BodyPump classes, and more.




While I'm a blogger, I'm also an avid blog reader and have connected with other health- and fitness-minded women through their blogs. Tina Reale, the blogger behind Best Body Fitness, has become more than just a friend to me. She is an inspiration.


Tina is a mother and a personal trainer and the founder of the Best Body Boot Camp online personal training program that offers six weeks of specific workouts to participants for only $25. Tina's workouts are a blast and I am currently in the middle of her second boot camp. I love the way the workouts change every two weeks and how she offers modifications for nearly every exercise for beginners or those who might not have access to a gym.

Tina is adamant about making fitness fun and available to everyone and is constantly creating workouts on her website for people to do at home. She makes workouts scalable and exciting, and her authenticity shines through when she shares about her own fitness- and food-related struggles from time to time.

I added Tina's picture along with some of my favorite fitness gear and quotes to a My Fit Pinspiration board on Pinterest to participate in a fun contest Reebok is hosting with the chance to win a trip to New York City! Anyone can participate and instructions can be found below. I'd love to check out your Pinterest boards for inspiration, too!

Steps to Enter Pinterest Contest:

1) Follow Reebok on Pinterest (www.pinterest.com/RBKUSA)
2) Create a Pinterest board titled "My Fit Pinspiration"
3) Build out your board with real-life fitness hero stories. Add a photo of your real-life fitness inspiration hero by clicking the +Add button on your board and writing a short description explaining why you have nominated them.
4) Make sure to include a collage of your favorite Reebok fitness wardrobe and technology (ZigLite, RealFlex, or SmoothFlex), pulling from Reebok's Pinterest board, Reebok.com, or Reebok.com/Custom. (Minimum 5 pins, please)
5) The board name must include Reebok and/or Reebok product names and be categorized under Fitness.
6) Hashtag each of your pins with #MYFITPIN.
7) Email reebokcontest@sugarinc.com with a link to your "My Fit Pinspiration" Board

PRIZE:

· Trip for two to NYC for a Girls' Weekend
· Visit to the NYC Reebok FitHub and a $1000-per-person shopping spree for Reebok footwear/apparel
· Nominator and Hero will be featured as part of Reebok's Holiday campaign in a fitness-focused inspirational video, telling the story of the nomination