Memorial Day All-American Grilling Menu and Recipes
Come Party With Me: Memorial Day Barbecue — Menu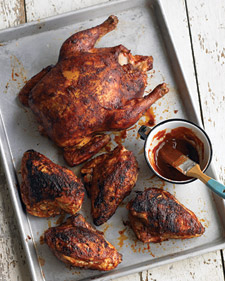 As much as I love experimenting with exotic flavors and different grill techniques, the last time I enjoyed barbecue was in October, and at the start of the grilling season there's only one thing I crave: all-American favorites. I'm talking about grilled succulent shrimp, finger-licking-good chicken with sticky-sweet-smoky barbecue sauce, and hearty warm weather salads. This Memorial Day, my menu is chock-full of BBQ classics, from a Southern succotash to a sophisticated orzo salad. The peel-and-eat shrimp starter is served with a spicy, ketchup-based cocktail sauce. The highlight — a whole grilled chicken — is slathered in a homemade barbecue sauce that's easy to put together. To take a look at these crowd-pleasing recipes,
.
Ingredients
Cocktail sauce:
2 cups ketchup
2 tablespoons freshly grated horseradish root*
2 tablespoons high-quality bottled horseradish
2 tablespoons freshly squeezed lemon juice
1 1/2 tablespoons Worcestershire sauce
1 tablespoon hot sauce
2 medium shallots, peeled, and grated on a Microplane grater
Brine:
8 cups water
1/4 cup kosher salt
2 tablespoons granulated sugar
2 lemons
4 garlic cloves, peeled, and grated on a Microplane grater
3 cups ice
Twenty-four 8- to 12-count unpeeled shrimp (this means shrimp that come 8 to 12 to a pound)
1/3 cup canola or vegetable oil
1/2 cup extra virgin olive oil
Juice of 2 lemons
1/4 cup minced chives
Kosher salt
Freshly ground coarse black pepper
2 lemons, each cut into 4 wedges
Directions
Stir together all of the cocktail sauce ingredients in a medium bowl and refrigerate for at least 2 hours, but preferably overnight for the flavors to develop.
Combine all of the brine ingredients in a large bowl and stir to dissolve the salt and sugar. Cut the lemons in half, squeeze the juice into the brine, and add the whole lemons as well. Stir in the garlic, followed by the ice.
For each of the shrimp, using a paring knife, cut along the curve of the back of the shrimp, and remove the vein, keeping the shells intact. Clip the feet off with a small pair of scissors.
Place the shrimp in the brine and refrigerate for 1 hour.
Preheat all grates of a well-oiled charcoal or gas grill to medium.
Remove the shrimp from the brine and lightly pat dry with paper towels. In a bowl, toss the shrimp in the canola oil. In a separate bowl, combine the olive oil, lemon juice, and chives. Set aside.
Place the shrimp on the grate, close the lid, and grill for 4 minutes. Flip to the second side and grill for 4 minutes.
Remove from the grill and immediately place in the bowl with the olive oil mixture, tossing to coat. Season with salt and pepper and serve with cocktail sauce and lemon wedges on the side.
Serves 8.
*Fresh horseradish is available in many markets and is worth seeking out. If you can't find it, the sauce won't have that extra punch, but it'll still have great flavor. Use additional bottled horseradish to taste.
Information
Category

Seafood, Appetizers

Cuisine

North American