Menu and Recipe Ideas For a Canning and Pickling Party
Come Party With Me: Canning and Pickling Party — Menu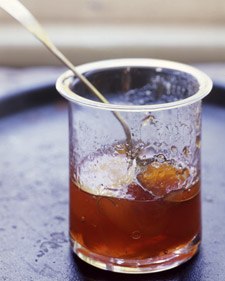 In the Winter, I always love to invite my friends over for a cookie swap or edible gift-making party. However, I've never done something like this during the warmer months — until now. Inspired by a new Williams-Sonoma book, The Art of Preserving, I'm hosting a canning party and I suggest you do the same. First select a date — preferably a relaxed time, like Sunday afternoon — then decide what you want to make at the event. Throw in some homemade snacks and you've got yourself a fabulous little party. At mine, I'll offer guests two nibbles in the form of a white bean dip with parsley oil and an oven-dried tomato tart with goat cheese and black olives.
What will we be making? Peach-rosemary jam and classic dill pickles! If this sounds like fun to you, check out these recipes, after the break.
Ingredients
1 cup dried white beans, such as cannellini or navy beans
4 garlic cloves, peeled
1 thyme sprig
1 bay leaf
3/4 cup extra-virgin olive oil
Salt and freshly ground pepper
1 cup flat-leaf parsley leaves
1 cup celery leaves
Flatbread or pita chips, for serving
Directions
In a medium saucepan, cover the beans with 2 inches of water. Add the garlic, thyme and bay leaf and bring to a boil. Simmer the beans over low heat, stirring occasionally, until tender, about 2 hours. Add more water as necessary to keep the beans covered by 2 inches.
Drain the beans and reserve the garlic and 1/3 cup of the cooking liquid. Transfer the beans, garlic, cooking liquid and 1/4 cup of the olive oil to a food processor and puree. Season with salt and pepper.
In a mini food processor, combine the parsley and celery leaves with the remaining 1/2 cup of olive oil and puree. Season with salt and pepper.
Transfer the white bean dip to a shallow bowl and make a well in the center of the dip with the back of a spoon. Pour the parsley oil into the well and serve with flatbread or pita chips.
Serves 10.
Make Ahead: The bean dip and parsley oil can be refrigerated separately for up to 2 days. Bring to room temperature before serving.
Information
Category

Dips, Appetizers

Cuisine

Mediterranean/Middle Eastern