Menu and Recipes for Kentucky Derby Party
Come Party With Me: Kentucky Derby — Menu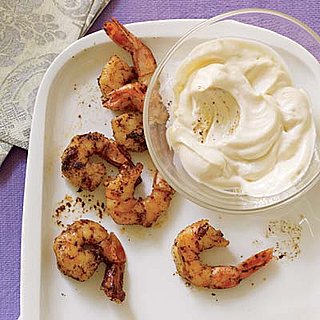 The Kentucky Derby, the most talked about horse race of the year, is this Saturday. I like to use it as an excuse to gather friends for a little party. The race starts at 6 p.m. on the East coast and 3 p.m. on the West coast. The ideal time to throw a party is before the race; have guests come at 4 p.m. (East coast) or 1 p.m. (West coast) and serve a spread of upscale Southern-inspired appetizers. Blackened shrimp with roasted garlic aioli will have your guests licking their fingers and hungry for more. Deviled eggs go glam with the addition of tangy goat cheese and chunky chutney.
Crunchy fried green tomatoes add an element of necessary fried goodness to the menu. Mini grilled cheese and ham sandwiches are a crowd-pleasing classic. If you're hosting a Kentucky Derby shindig, I highly recommend you check out these recipes after the break.
Blackened Shrimp With Roasted Garlic Aioli
Ingredients
1 head garlic
2 teaspoons extra-virgin olive oil
3/4 cup mayonnaise
1 teaspoon apple cider vinegar
2 teaspoons paprika
2 teaspoons onion powder
1/4 teaspoon cayenne pepper or chipotle chile powder
Salt and pepper
3 tablespoons butter, melted
1 pound large shrimp, peeled and deveined, with tails left on
Directions
Set a rack in the center of the oven and preheat to 400°. Slice off the top of the garlic head. Brush the cut side with 1 teaspoon olive oil. Wrap in foil and bake until tender, 40 minutes. Let cool.
Squeeze the garlic cloves from their skins into a food processor. Add the mayonnaise and vinegar; puree. Transfer the aioli to a bowl and refrigerate.
Meanwhile, in a small skillet, toast the paprika, onion powder, oregano, cayenne and 1/2 teaspoon each salt and pepper over medium heat until fragrant, about 1 minute. Stir in the melted butter. Transfer to a bowl and add the shrimp to coat.
Brush a grill pan with the remaining 1 teaspoon olive oil and preheat over high heat. Add the shrimp and cook, turning once, until the spices are blackened, 2 to 4 minutes. Serve with the aioli dip.
Serves 8.
Information
Category

Seafood, Appetizers

Cuisine

Cajun/Creole