Menu and Recipes For Winter Weekend Getaway
Come Party With Me: Winter Weekend — Menu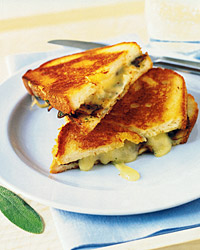 It's my best friend's birthday this weekend, and to celebrate, a group of 12 friends are headed to my parents' cabin in the Sierra Nevada mountains. We'll enjoy lots of delicious foods and decadent desserts. To kick things off on Friday night, we'll make a huge pot of Italian chicken chili with pancetta crouton toppers. This hearty and filling dish is the perfect start to a cold Winter weekend. On Saturday morning we'll recharge with breakfast burritos stuffed with eggs, cheese, black beans, and chorizo. After a day of snowshoeing, we'll come home to comforting grilled fontina and mushroom sandwiches and roasted red pepper soup.


These recipes are great for the season, so get them now and read more.
Italian Chicken Chili With Pancetta Crouton Toppers
Ingredients
1/2 cup extra-virgin olive oil
3 pounds ground chicken
Salt and pepper
2 onions, chopped
2 carrots, peeled and grated
1 bay leaf
1/3 cup balsamic vinegar
4 jarred roasted red peppers
4 to 5 sprigs thyme
2 tablespoons chili powder
2 teaspoons sweet smoked paprika
1/4 teaspoon ground allspice
One 32-ounce container (4 cups) chicken broth
1/3 pound pancetta, sliced 1/8 inch thick and finely chopped
3 tablespoons butter, cut into pieces
1 loaf crusty bread (about 1 pound), cut into 1-inch squares
6 large cloves garlic, crushed
1 cup freshly grated pecorino-romano cheese
3 tablespoons finely chopped fresh rosemary
Directions
In a large, heavy pot, heat 1/4 cup olive oil over high heat. Add the chicken, season with salt and pepper and cook until lightly browned, about 5 minutes.
Add the onions, carrots and bay leaf and cook until browned, about 8 minutes more.
Stir in the balsamic vinegar, scraping up the pan drippings. Remove the pan from the heat.
In a food processor, puree the roasted peppers, then stir into the pot. Throw in the thyme sprigs, chili powder, paprika and allspice; season with salt and pepper.
Add the chicken broth, bring to a boil, then reduce the heat and simmer for 20 minutes, skimming the fat from the surface, if desired.
Preheat the oven to 375°.
In a small skillet, heat the remaining 1/4 cup olive oil over medium-high heat. Add the pancetta and cook until browned, 3 to 5 minutes. Using a slotted spoon, transfer to a small plate. Add the butter to the skillet and turn off the heat.
Place the bread and garlic in a large bowl. Pour the butter mixture evenly over the bread. Sprinkle the pancetta, cheese, rosemary and lots of pepper over the bread and toss to coat. Place the cubes on a baking sheet and bake until golden, tossing every now and again, about 15 minutes. Let cool.
Discard the bay leaf and thyme sprigs. Serve the chili in mugs and top with the pancetta croutons.
Serves 6.
Information
Category

Chili, Main Dishes

Cuisine

Italian