Mesa, AZ, Restaurant Il Vinaio Serves Controversial Lion Meat Hamburger For World Cup
Would You Eat Lion Meat?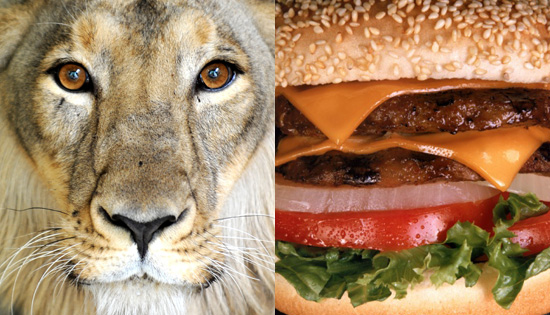 Not content to simply throw a global tapas-themed party for the World Cup, Cameron Selogie, owner of Il Vinaio restaurant in Mesa, AZ, has been serving customers a limited-edition South Africa-themed burger made from lion meat.
The burger, which the Phoenix-area restaurant is charging $21 for, is actually a mixture of lion meat and ground beef. Since lions are a protected — and dwindling — species in Africa, animal rights activists have predictably been flooding the restaurant with angry calls, emails, and even bomb threats.
Selogie claims that his meat came from a free-range farm in Illinois that's been approved by the USDA. "Frankly, I'm a little shocked with all the problems in the world today, with the oil spill and immigration, that people have this much time to talk about 10 pounds of lion meat," he said. Yet rumors are swirling about the legitimacy of the Illinois lion farm. I'm not satisfied by Selogie's answer and think the idea sounds gross. What about you?