Is Mexican Coke a Myth?
Mexican Coke: It Might Not Be Special After All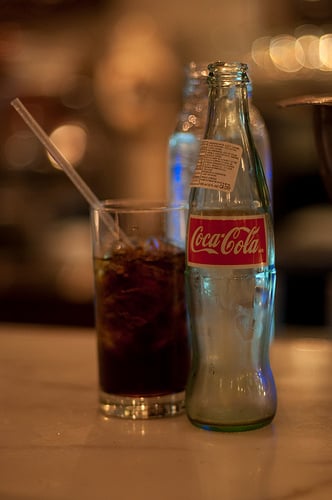 Could the cult of Mexican Coke be nothing more than another case of the emperor's new clothes? That's what some analysts are asserting. The Latin American soda version has a fiercely loyal following due to the fact that it's made with sugar rather than high-fructose corn syrup. But is that really the case? According to a new study in Obesity, the beverage doesn't actually contain sucrose, the sugar compound that makes up cane sugar. Instead, a lab analysis located plenty of glucose and fructose.
So what does this mean? According to nutrition authority Marion Nestle, there are two possible conclusions: either the soda studied was old and the sucrose split into glucose and fructose, or the company used high-fructose corn syrup instead of cane sugar. Which do you want to believe?
Source: Flickr User Mills Baker