Mexican Fish Recipe
Fast & Easy Dinner: Pescado Veracruzano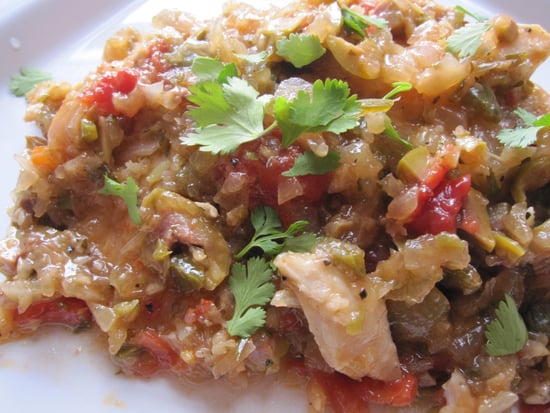 If you're in the mood for Mexican, but don't want to go the taco-enchilada route, I have the perfect dish for you: fish Veracruzano. It's a fragrant recipe from Katie Lee that was inspired by a meal she had in Veracruz, Mexico. The fish is cooked in a lip-smacking good sauce that's full of onions, jalapeños, and tomatoes. Green olives and capers give the sauce an irresistible salty and briny quality. The ingredient list calls for red snapper, but since it's on the avoid list in terms of sustainability, I opted for another white flaky fish. For a complete meal, serve with Spanish rice and a cold beer! Get the scrumptious recipe now.
Ingredients
1∕4 cup olive oil
2 large yellow onions, finely chopped
6 garlic cloves, minced
3 jalapeños, seeded and minced
1∕2 cup dry white wine
28-ounce can diced tomatoes, with juices
1 tablespoon sugar
1∕4 cup minced flat-leaf parsley
2 tablespoons drained capers
1 cup large green olives, pits removed and coarsely chopped
2 bay leaves
Salt and freshly ground black pepper
8 4-ounce fish fillets
Cilantro sprigs and lime wedges, for garnish
Directions
Heat the olive oil in a large skillet over medium heat. Add the onions, garlic, and jalapeños. Sauté until the onions are soft, about 10 minutes.
Add the white wine and use a wooden spoon to scrape up any brown bits from the bottom of the pan.
Stir in tomatoes, sugar, parsley, capers, olives, bay leaves, 1 teaspoon salt, and 1/2 teaspoon pepper. Reduce the heat to low, cover, and simmer for 15 minutes.
Season each side of the fish with salt and pepper. Place each fillet on the sauce and use a spoon to cover the fish with sauce. Cover and cook for 8 to 10 minutes, until the fish is opaque.
Place the fish on a serving platter and spoon sauce over each fillet. Remove the bay leaves. Serve garnished with cilantro and lime wedges.
Serves 6-8.
Information
Category

Main Dishes, Fish

Cuisine

Mexican