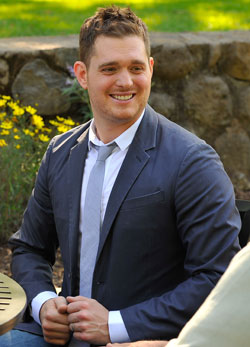 Michael Bublé stopped in St. Helena for a special appearance at Beringer Vineyards as part of the Beringer & Bublé partnership last week. He teamed up with Beringer on his Crazy Love tour, and his visit to wine country was accompanied by a VIP performance for about 300 lucky fans and guests. We sat down with Michael and winemaker Laurie Hook to chat during the press day, and Michael opened up about his winemaking grandfather, his favorite Beringer blend, and what he and wife Luisana Lopilato love most about Napa. The singer also shared a few of his LA restaurant picks, which included Umami Burger and Malibu's Tra di Noi, and Michael Bublé gushed about his wedding, meeting Luisana, and more:
On his favorite parts of St. Helena: "How sweet and cute the main street is. Great restaurants that are so romantic. For me, I didn't know a lot about wine. I knew I liked it, but I couldn't explain what I liked. It was really fun for me to come here, and see how it's done, and the people that make it happen."
On blending wine at Beringer with his grandfather: "The first time I was here I was with my grandfather, we got this incredible tour, my favorite part of the tour was the pairing. I watched my grandpa down about 50 breadsticks. He kept saying, 'I shouldn't have these. I know I shouldn't have these.' And then he'd say 'I'll just have one more.' It was just so incredible."
On his favorite Beringer wine: "Beringer Knights Valley Cabernet Sauvignon 2008. I give it to my guests and I drink it a lot."
On his wife's first trip to Napa: "She's here. We arrived late, late last night. Had a hot tub off our balcony, which was nice, we had a little glass of wine. I asked her if she wanted to come here and hang out with me and she didn't. She was outside tanning, and now she's at the spa having a massage and a faaah-shil (facial) as she calls it."