Michael Chiarello: 5 Things You Shouldn't Do When Cooking
5 Cooking Don'ts From Michael Chiarello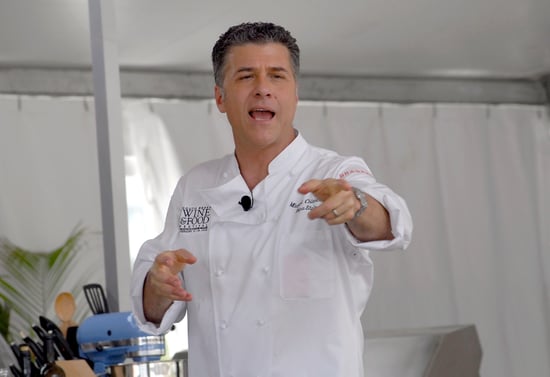 At food festivals past, I've learned more than enough about new cooking tips and techniques I should be doing — but what about things we shouldn't be doing in the kitchen? At his seminar in Aspen, Cal-Italian maestro Michael Chiarello tackled spicy dishes from Calabria, Italy, but also took the time to touch upon a number of culinary no-nos. While some were highly specific and others were more general, many of his kitchen don'ts were revelations. Find out what they are when you read on.
Don't cook for someone you don't like. Is your spouse's dreaded business partner coming over for dinner? Then buy a whole roasted chicken. "Why waste your culinary skills on someone you don't care about?" Michael points out.
Don't ever apologize for your cooking. "This is gender-specific to all you women!" he exclaimed. It doesn't matter how it tastes; if it's made with love, the flavor will be there.
Don't be fooled into thinking that expensive produce — especially "heirloom" varieties — are necessary. "Produce shouldn't cost the same as protein," he said, lamenting a recent purchase of a single $10 tomato. The same goes for fancy vegetables. "'Heirloom' just means it's an old seed; it doesn't mean it's better. They stopped growing a lot of them because they didn't taste so good!" Red beefsteak tomatoes are just fine.
Don't cook with table salt, which Michael compares to self-rising flour. It has unnecessary additives like iodine, and has no nutritional value. Instead, he recommends gray salt, which contains 92 flavorless micronutrients.
Don't create infusions by putting herbs in your olive oil. "Don't ever make those olive oils you see on the pages of, like,

Martha Stewart

— they're nasty, and they can potentially make someone sick because the plants contain bacteria." Instead, he recommends puréeing herbs with olive oil, bringing the mixture to a boil, and then straining it twice (through a fine sieve first, and then a coffee filter). The resulting infusion will last a month in the refrigerator.
Now that Michael's shared his culinary rules, tell me: what are yours?