Michael Chiarello Interview on Next Iron Chef: Super Chefs
Michael Chiarello on the Difference Between Top Chef Masters and Next Iron Chef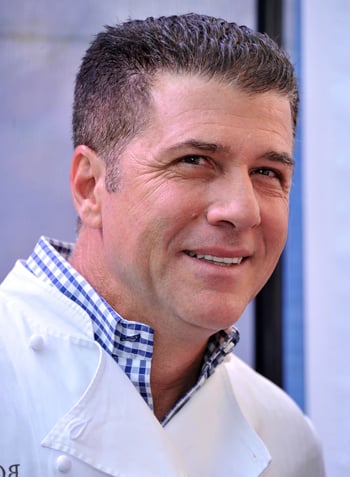 Michael Chiarello is no stranger to reality TV cooking competitions: he was a runner-up on the first season of Top Chef: Masters and has been a guest on Bravo's regular Top Chef series.
When I caught up with him briefly at the New York City Wine & Food Festival, I was curious to know what would compel the seasoned chef — who's a fan of YumSugar! — to put himself on the cutting board once again.
See what he had to say when you keep reading.


Michael Chiarello: I love what you guys do!
YumSugar: Thank you! We love what you do, too. Tell us about your experience doing Next Iron Chef: Super Chefs.
MC: It was kind of like looking inside like a SpongeBob SquarePants cartoon: you're under water, with all this pressure and noise. It's more like a sport than it is a craft or an art, when you're doing this. And you spend so much time together that you're fast friends real quick, so when one of us has to go, it's always a bummer.
YS: Was there a lot of ego involved?
MC: No. Everybody has a skill set, and we all respect that skill set: Geoffrey [Zakarian] is a master technician; Anne [Burrell] shoots from-the-hip Italian; Marcus [Samuelsson] has a really interesting multi-ethnic approach to cooking. Everybody has a toolbox that's a little bit different. And to watch them, it's like running a sprint and really appreciating the style and training of the competitor next to you, and being able to watch it and enjoy it. That's probably the best thing.
YS: So was there more of an undercurrent of camaraderie than there was competitiveness?
MC: Yeah, I don't think anybody was after anybody. It's not like the kids, the twentysomethings. This is what we do as a way of life. I've been doing this for over 100,000 hours, so this is just a moment in time in our entire careers.
YS: Nevertheless, who did you see as your biggest competitor going into the competition?
MC: They all have different skill sets. You know, Alex [Guarnaschelli] sits with all this deep French training in a demure way on the other side. She's got good chops.
YS: How is it different from that, ahem, other chef competition you did?
MC: Each was more challenging than the other in a different way. I think Top Chef Masters was a lot more of, "You have five hours to cook for 150 people!" It really was a restaurateur chef show. This one is all about the individual. It really is more about what you're doing as a person than your skills are as a chef. You can have an experience in the genre, you know, like Geoffrey [Zakarian] and Alex [Guarnaschelli], who judge this stuff all the time, so they know the ins and outs of it. Those of us that don't do it that often have to be quick studies.
YS: So is it more about your culinary persona or culinary point of view?
MC: Well, it's just you. You have a narrow amount of time — 45 minutes, or whatever they're saying — the ingredients are changing. There's twists and turns. The ingredients aren't always what you would choose to cook with; it could be a peanut butter cup. A peanut butter and a rabbit.
YS: Mmm . . . sounds like a delicious combination. What was the biggest surprise of the show for you?
MC: How quick the time goes. The time goes really quick. Did you ever see that film Run Lola Run? With the time lapse thing and how the last two minutes goes, like, in 15 seconds? You think, "Oh, I've got two minutes to plate these" and then, suddenly it's, "Five . . . four . . . shoot!"
YS: Were you surprised by the outcome?
MC: No! Talent always wins.